The Columbia Icefield, located on the British Columbia and Alberta border, is the largest such icefield in the Rocky Mountains… 
A Mighty Source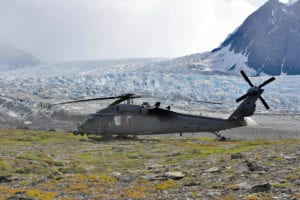 …It covers an expanse of 125 square miles and is 1,200 feet thick (3,300 at its deepest). Every year this region receives almost 24 feet of snow.  This massive amount of snow generates many glaciers, which in turn feed many rivers.  For instance, the Saskatchewan Glacier is the headwaters of the North Saskatchewan River whose ultimate destination is the Hudson Bay and the North Atlantic Ocean.  Runoff from the Athabasca Glacier creates the Athabasca River which makes its way to the Arctic Ocean.  Additionally, a number of other glaciers form the headwaters of the mighty Columbia River which finds its way into the Pacific Ocean.  This is why the Columbia Icefield is often referred to as "the Mother of Rivers."
Think about it.  Such an inhospitable place of perpetual ice and snow, 9,000 feet in elevation, and surrounded by 11,500-foot peaks is the ultimate source of life, agriculture, recreational activity, and fun for millions of people.  The millions who swim and boat on the Columbia River, who drink its waters, and enjoy the electrical power it produces, probably never give a thought to its icy cold origins.
Behind The Scenes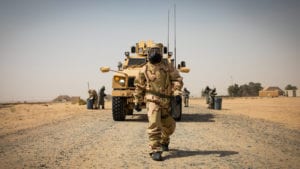 This reminds me of something within the church.  The vast bulk of Christian believers enjoy an array of tools to help them in their spiritual journey.  They have many modern translations of the Bible that make the Scripture understandable and edifying.  There are Bible study tools (e.g. Bible dictionaries, commentaries, Greek and Hebrew lexicons, Bible atlases, and books on apologetics, manners and customs of the Bible, etc.).  Now, the average Christian may only occasionally use these tools.  But pastors and teachers of the Bible use them constantly to prepare sermons, homilies, and lessons to feed God's people.  As a result, what the average parishioner receives is usually an enjoyable and easily digestible message from the Bible.
But what is the ultimate source of all these Bible translations and Bible study tools?  It is the archaeologist who works in dusty, hot, dry lands to uncover ancient Greek and Hebrew manuscripts of the Bible.  It's the textual scholar who, from these manuscripts, creates a better and more reliable Greek and Hebrew text for the Bible.  It's the team of biblical language and linguistic scholars who, from this text generate new translations of the Bible that are more accurate than any before them.  Yes, all these wonderful Bible study tools are wrought in the dusty archaeological sites and dreary offices by scholars.
Unfortunately, these scholars would probably be considered cold, drab, and dry by your average enthusiastic Christian.  Yet, they'd have no idea of how much they owe to the sacrifices and labors of such "boring and uninspiring" people.
A Tapestry of Grace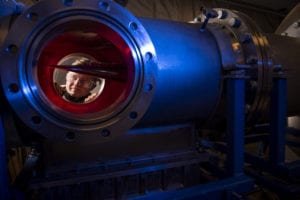 Consider also the debt of gratitude we owe to the scientists and researchers who work in boring laboratories to improve our quality of life with medical advancements and inventions.  In the same way we owe a great debt of gratitude to the archaeologist and biblical scholar.  They do all the hard and uninspiring work to enrich our Christian experience and facilitate our spiritual growth.  Most of us would hate to do their job.  Therefore, let's thank God all the more that He has called such people to do the work for us.
It takes all kinds of people, doing all kinds of ministries, to build God's church.  As Paul the apostle wrote, "For just as each of us has one body with many members, and these members do not all have the same function, so in Christ we, though many, form one body, and each member belongs to all the others.  We have different gifts, according to the grace given to each of us. If your gift is prophesying, then prophesy in accordance with your faith; if it is serving, then serve; if it is teaching, then teach; if it is to encourage, then give encouragement; if it is giving, then give generously; if it is to lead, do it diligently; if it is to show mercy, do it cheerfully" (Romans 12:4-8).
PRAYER
Dear Father in heaven, thank You for all those You raise up to build civilizations, to improve our quality and length of life, and to develop technologies, build infrastructures, and create governments.  Thank You most of all for all those You raise up to accomplish Your work, especially those thankless and dreary jobs.  Help me, O God, to appreciate those you call to do jobs different than mine and help me to be more faithful doing what You called me to do. Amen.
---
Photos:
-https://www.flickr.com/photos/usairforce/4907511712/in/
-https://www.flickr.com/photos/marine_corps/49852374078/
-https://www.flickr.com/photos/usairforce/40181430863/
(Information from: Natural Wonders of the World, The Reader's Digest Association, Inc., Pleasantville, NY, 1980, p. 103; https://en.wikipedia.org/wiki/Columbia_Icefield)