John James Audubon (1785-1851) was an American naturalist, ornithologist, and artist. His famous collection of water colors, Birds of America, contains 435 life-sized depictions of North American birds.
In this book he introduced 25 new species and 12 subspecies of fowl. This stirred the hearts of millions toward conservationism and the protection of the environment.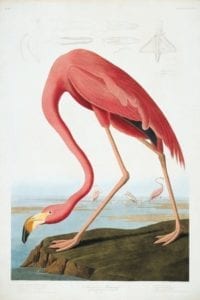 In fact, Audubon's name has been adopted by numerous environmental organizations. These organizations include the Massachusetts Audubon Society (founded in 1896) and National Audubon Society (founded in 1905). They have sponsored the passage of numerous environmental bills in Congress and the creation of many wildlife refuges throughout North America.
Yet, over the years, Audubon's admirers have been somewhat disillusioned by the methods their patron saint used to paint so many lifelike bird portraits. You see, John James Audubon was also an avid hunter who killed his birds in order to paint them. Biographers have learned that he would sometimes shoot dozens of birds to make a single painting. After killing them, Audubon would pose them in realistic positions to achieve "action shots." This champion of wildlife was sometimes one of its worst enemies!
Too often the cause for which many of us labor and fight suffers from our own hypocrisy, greed, and desire for power. Sometimes we can do more harm than good to the message we preach by our poor behavior and heartlessness. Often we can become abusive to those in our charge by our own self-serving practices.
Sometimes we can do more harm than good to the message we preach by our poor behavior and heartlessness.
In the Scriptures, Paul the apostle spoke of those who profess to know God with their mouths, but deny Him by their deeds (Titus 1:16). Jesus, likewise, condemned many of the religious leaders of His day because they preached things but failed to practice them (Matthew 23:2-3).
May God grant us the love, strength, and wisdom to live in such a way that words are not necessary!
PRAYER:
Dear Father in heaven, please help me to proclaim Your love and righteousness by my deeds as well as by my words. Amen.
---