For anyone who's traveled the Texas Panhandle there is just one word to describe its topography – flat!  Yes, just travel along I-40 (formerly US Highway 66) and you'll see.  It's the flattest place on earth. 
But this is not entirely true.  Running north to south, about midway across the Panhandle, is the Caprock Escarpment.  In some places this geologic feature is barely noticeable.  But in most places the Caprock Escarpment is characterized by dramatic drops in elevation – sometimes over 1000 feet in places like the Palo Duro Canyon and the Caprock Canyons.  What causes these "cliffs out of nowhere?"  Erosion.  The relentless pounding of the rain, floods, and wind has carved out a labyrinth of canyons throughout the otherwise tabletop surface of the Texas Panhandle.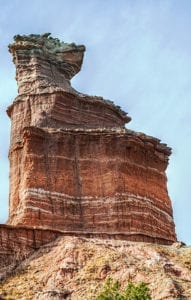 But there's another element that has caused these beautiful canyons.  It's the presence of intermittent layers of hard, weather-resistant limestone and sandstone rock amidst the softer and unconsolidated layers of shale, gypsum, and mudstone.  For instance, look at the photo of Palo Duro Canyon's popular feature – Light House Peak.  This towering formation rises 3,100 feet above sea level.  Its survival has depended on the extremely resistant layer of caliche (a very hard limestone) that caps its top and the intermittent layers of hard limestone amidst the softer mudstones and white layers of gypsum.  If the whole of Light House Peak consisted of the brightly-colored mudstone and the white streaks of gypsum, there would most certainly be no Light House Peak.  All would have quickly eroded long ago.   
So what's my point? It's not merely that the earth needs the drab, but weather resistant, layers of rock for the survival of geological features like Light House Peak. My point is that the survival of countries and kingdoms depend on strong, moral leaders. They may predominantly have a series of weak and yielding leaders. But they must also have sin-resistant leaders at critical times in that country's or that kingdom's history. 
When I read though the biblical books of Kings and Chronicles, I tend to get a little discouraged.  This is because most of the kings of Israel and Judah were predominantly wicked. These leaders tended to drag God's people down the slippery slope of spiritual decay.  Then comes a bright and shining righteous king, like Hezekiah and Josiah, and he turns the nation back to God.  But they are quickly followed by more wicked kings, like Manasseh and Zedekiah, who drag the nation back down again.  As I read these tragic histories it almost makes me wonder, "What's the use of resisting sin? What's the use of these kings trying to be a force for good and righteousness in their world?  For after their godly efforts they'll only be followed by others who will be like putty in Satan's hands and will undo all the good their predecessors strove to accomplish." 
I suppose if the weather-resistant rocks of Light House Peak could speak, they might ask the same question. "What's the use of resisting the rain and wind and snow? After me are other layers that give way to the weather so easily?"   
Of course, we know that Light House Peak only stands because of the harder, tougher layers.  Sure, it will eventually topple down.  But those weather-resistant layers greatly extended its life.   
And those sin-resistant kings in Israel did not keep the kingdom from never failing.  But they did extend the life of the kingdom and did help preserve the seed of the Messiah until He finally arose to accomplish His work of redemption. 
Don't think of your deeds of kindness as useless just because they are followed by the cruelty of many others.
So don't lose heart when you clean up a mess only to have it messed again by someone else. Don't get discouraged when your light is so small against the darkness.  The ingredient of your goodness is preserving a life, a family, a nation, a world. 
PRAYER:
Dear Father in heaven, even when I cannot see the good or positive results of my labors, help me to be faithful and to keep my focus on You and on Your eternal reward. Amen. 
---