Haldor Lillenas may not be a household name. Yet, it belonged to one of the most influential gospel song writers and publishers in the first half of the Twentieth Century.
The Norwegian-born Haldor Lillenas composed both the melodies and lyrics for more than 4,000 gospel songs and hymns. Some of his most popular are "Wonderful Grace of Jesus," "My Wonderful Lord," and "Jesus Will Walk with Me."
Lillenas' love for gospel music began when, as a boy, he was led to faith in Jesus by a Christian woman. Along with teaching him the Bible, she also schooled him in gospel music. One song she taught him, which he loved the most, was entitled "God Leads Us Along." It was written by an impoverished pastor in eastern Kansas, Rev. George A. Young, who worked on the side as a carpenter to support his family.
Worldly Possessions Don't Last
Rev. Young labored for many years in small churches. Later in life, he finally managed to save enough money to build a small house for his family. It was the only significant possession they had.
But while he and his family were out of town conducting revival meetings at another church, tragedy struck. Vandals set fire to his home and burned it to the ground. The loss hit Rev. Young hard. Now middle-aged, he had nothing to show, in worldly possessions.
Rev. Young found consolation from the Scripture in Isaiah 43:2. "When you pass through the waters, I will be with you. When you pass through the rivers, they will not overwhelm you. When you walk through the fire, you will not be burned, neither will the flames scorch you."
From this passage, Rev. Young wrote the words to his famous song. "Sometimes on the mountain where the sun shines so bright, God leads His dear children along. Sometimes in the valley, the darkest of night, God leads His dear children along. Some through the water, some through the flood, some through the fire, but all through the blood. Some through great sorrows, but God gives a song, in the night season and all the day long."
The Impact
This song became so meaningful to Haldor Lillenas that he determined to meet its author. In 1942, he managed to obtain an address—but only for Rev. Young's widow. Pastor Young had long since died.
As he entered the town where she lived, Haldor stopped at a local filling station for directions. When the service station attendant looked at the address his face fell. "Sir, that's the address to the county poor farm."
"The poor farm? That's a terrible testimony—that God led one of his faithful servants to the poor farm." Lillenas' first inclination was to turn around and return home. But after getting gasoline, Lillenas changed his mind and decided to go visit the poor woman: "As long as I'm here," he thought, "I might as well go see her."
Lillenas followed the station attendant's directions to the county poor farm, approaching the buildings with some hesitation and doubt. He was led to Mrs. Young's room. He explained who he was and why he had come. Her immediate response was, "Oh, Mr. Lillenas, it's so wonderful of you to come out and visit me!" Her radiant enthusiasm suddenly changed his whole attitude toward the visit, and his excitement mounted as she told him this story.
Happiness is from the World, Joy is from the Lord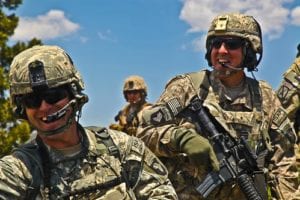 "My husband I were married while we were very young. God gave us a wonderful life together; he led us from day to day. We had so much of Jesus. But then God took my husband. Now God has led me here, and I'm so excited and glad about it! God has used me in this place. Isn't it wonderful that God leads his children day by day and step by step? Many people come to this place and they are so sad and in such great need. All they need is help and comfort. I have been able to cheer many of them and lead scores of them to the Lord Jesus Christ. How thankful I am that God has brought me to this place, where I can be so much help to these people!"
As a result, Haldor Lillenas was deeply moved by Mrs. Young's words and excited that he had found more than just a story behind a gospel song. Because he had found a Christian woman completely surrendered to God's will for her life. For a few brief moments, he stepped into the world of this faithful servant of Christ, who had found true success in God's Kingdom—being faithful in the work God had called her to do.
God's Servants
God's servants desperately need to adopt the values of His Kingdom. Success is not measured in achieving a bigger salary, a greater congregation, or a higher rank. Success is not measured by earning academic degrees or the praise of other people. God measures success by our faithfulness to the task He's given us and by our love for Him and for other people. Our ambition in this life should be to hear from Jesus these words. "Well done, good and faithful servant. You have been faithful in a few things. I will put you in charge of many things. Enter into the joy of your Lord" (Matthew 25:21, 23).
PRAYER:
Dear Lord Jesus, if Your chosen path brings me to obscurity, poverty, sickness, and death, please let me be faithful in whatever You call me to do. Whether the task be great or small, may I be glad and grateful for the chance to serve the King of Kings and the Lord of Lords. Amen.
---
In article photo: Operation Oqab Behar VI [Image 12 of 17] by https://www.flickr.com/photos/dvids licensed under CC BY 2.0