Ray Harryhausen is a towering figure in the science fiction genre of motion pictures.
His work as a film director, art director, and especially as a special effects technician is legend. His fame was before the days of computer animation. Ray Harryhausen was unquestionably the very best stop-action animator in motion pictures.  These movies are a just a few examples of his work: Clash of the Titans, Jason and the Argonauts, The Seventh Voyage of Sinbad, Mysterious Island, and The Beast from 20,000 Fathoms.  Harryhausen gave painstaking attention to every movement and every detail. Therefore, his monsters and exotic creatures were not just believable.  No, they expressed pathos and evoked sympathy from the audience. Film historians and critics praise him for doing his work so well that his miniature models were better actors than the leading men and leading ladies of the movies that featured his work.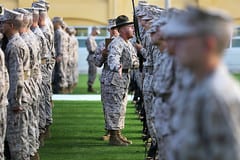 In an interview, Harryhausen expressed the discouragement he sometimes faced in his tedious and painstaking work. While working on the movie, 20 Million Miles to Earth, he concluded that it was a waste of his time to toil over such details as "breathing" and "blinking the eyes" on his creatures. "Nobody even notices those things," he said to himself.  This particular temptation rose every time production companies consigned his work to "B-Motion Pictures" starring second-rate actors.
But Harryhausen made up his mind to do his very best, regardless of how minor the movie. "That kind of detail is my calling card.  It's what distinguishes my work from all others."
His commitment to excellence paid off.  All his movies became box office successes—usually on the strength of his animated creatures alone.  His miniature monsters stole the show and Ray Harryhausen went on to universal acclaim in the motion picture industry.
The temptation exists for all of us to give less than 100 percent effort, especially when our audience is small or our team is losing. Why bother?  No one ever notices.  Nobody cares.  But remember this: our character grows by leaps and bounds when we faithfully do our work in the absence of praise and recognition.  And Someone is always watching, always mindful, and always keeping records of our faithful work.  For our Lord reminded us that "Your Father who sees all that we do in secret will one day reward us openly." (Matt. 6:6, 18)
PRAYER:
Dear Father in heaven, help me to be faithful in all the work You've called me to do.  Remind me in my times of discouragement, that only one life so soon will pass and only what's done for Christ will last. Amen.
---
In article photo: You Call That Inspection Arms? by the U.S. Marines licensed under U.S. Govt. Work