The creation of the indispensable Post-It Note has an interesting history.
A Tacky Invention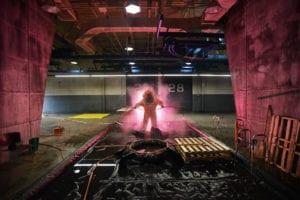 In 1964, 3-M chemist Spenser Silver developed a glue that he characterized as "tacky" but not "aggressively adhesive."  That is, it was sticky, but not sticky enough to serve any useful purpose.  He was intrigued by this new glue, but deeply frustrated that he couldn't find a purpose for it.  Spenser Silver would wander the halls of 3-M giving demonstrations of his "now it sticks, now it doesn't" adhesive.  He would coat two sheets of paper with the glue and show how easily it could stick and peel.  But no one seemed to care and only with great difficulty did he get 3-M to patent it.
Ten years passed.  Then one fateful Sunday morning, Arthur Fry, another 3-M chemist, was preparing to direct the choir at the church he attended.  Just as he stepped up to lead the choir in several hymns, he dropped his hymnal and all the bookmarks – marking the place of each hymn – fell to the floor.  It took five embarrassing minutes for him to recover the bookmarks and his composure.
But through the ordeal, he thought to himself, "If only I had bookmarks or notes that would stick in place, this sort of thing would never have happened."  Upon reflection, his mind went back to one of Spenser Silver's demonstrations.
The next day, he tracked down some of Silver's adhesive, applied it to small pieces of scratch paper and Post-It Notes were born.  Though 3-M remained unconvinced for several years and Arthur Fry had to do much research on his own – even building a "Post-It Note machine" in his own home – 3-M finally began to formally produce and market Post-It Notes in 1980 and they became one of the company's most stunning successes.[i]
Perfect Timing
Do you ever feel that, although you know you have gifts and talents, you're not sure just what purpose in life you could ever serve?  I.e., do you ever feel like Spenser Silver's adhesive?  "I know I'm good at something, but I just don't know what useful purpose I could ever fill in life."  For many of us, life is like that.  We must develop our gifts and talents and then our time will eventually come.  A great need will arise.  Recognition will come to our contribution.  And God will provide an opportunity for us to be used for the good of our fellow human beings and for his glory.
A fledgling young lawyer named Abraham Lincoln – once feeling all his efforts to study law and immerse himself in politics might be in vain – finally concluded, "I shall prepare myself and perhaps my time will come."  After many frustrations, failures and a lifetime in obscurity, Abraham Lincoln's time finally came.  The Scripture assures us that God has given each of us a special gift and endowment that we are to use for serving others (Romans 12:6-8).  Our task is to discover that gift and develop it and to look for ways to employ it in serving.  If we do our part, God will do his by opening doors of opportunity.
Prayer
Dear Father, help me not to despise the periods of obscurity and seeming unfruitfulness, but help me to use those times to develop the gifts You given me that I may effectively serve You and others when the opportunity arises. Amen.
---
[i] Information from Uncle John's Biggest Ever Bathroom Reader