Author, historian, explorer, and whitewater river-guide, Scott Thibony, tells the story of a sheepherder who learned the power of thirst through tragedy.
The Power of Thirst
In the heat of midsummer, 1906, J. D. Newman was driving a large herd of 800 sheep from the high plateaus of Utah to a crossing of the Colorado River at Lee's Ferry, near the entrance of the Grand Canyon. Newman had driven his sheep for hundreds of miles, and water had been very scarce. In fact, the sheep had gone without water for nearly three days. As the sheep descended down the trail, they were only three miles from the river.
Then something terrible happened. The sheep picked up the scent of water. They stormed off the trail quickly for the most direct route to the water—over a 300-foot cliff. The herders and sheepdogs tried in vain to stop and corral the sheep. But the sheep were so desperately thirsty that they could not be restrained. When the first wave of sheep reached the edge of the rim of Cathedral Wash, they tried to stop but were pushed off by the rushing sheep behind them. This disaster repeated itself again and again until most of the sheep had cascaded over the edge of the cliff to their death.
Thirsting for God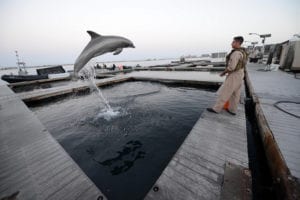 Thirst can be a terrible thing. And whether we can admit it or not, there is a continual and ever-growing thirst in all of us. It is a thirst for God's love and friendship. But for us, coming to God for fulfillment and healing is counter-intuitive. Our natural impulse is to run from God, from the only One who can satisfy the yearning within us and heal our wounded hearts. So our inner thirst grows more and more desperate. The unsatisfied thirst drives us to do foolish and harmful things—to try to quench our thirst with self-serving pursuits and irresponsible behavior. Our maddening thirst for God—the God we go on ignoring—will lead us to sacrifice our families. Additionally, we destroy our health in our desperate pursuit after things that can never satisfy the human heart.
Jesus on Thirst
Listen to what Jesus said in John 7:37: "If anyone is thirsty, let him come to Me and drink." There, during the Feast of Succoth, Jesus compared Himself with the rock in the wilderness, which gave forth life-giving water to the thirsty Israelites (Exod. 17:1–7; Num. 20:2–11). Jesus, also, promised to give the life-giving Holy Spirit to all who believed in Him (John 7:38–39).
To the Samaritan woman whose inner hunger for God's love had left her completely empty—though she had tried to fill her heart with the love of many men—met Jesus by a well. There He promised her the "living water" of the Spirit that would forever satisfy her yearning and give her eternal life (John 4:7–30). Further, to those whom Jesus had fed by multiplying the loaves and fishes (John 6:1–13), Jesus declared that He Himself was the Bread of Life. Additionally, he told them that whoever comes to Him will never hunger and whoever believes in Him will never thirst (John 6:35).
Are you running on empty? Is there an unsatisfied yearning inside you that drives you to fruitless pursuits, perhaps even self-destructive behaviors? Then recognize the thirst and hunger for what it is—it is your natural craving for God. And it can only be satisfied by fleeing into the arms of Jesus, embracing Him by faith, and being reconciled through Him to God your heavenly Father.
PRAYER:
Lord Jesus, I flee into Your loving arms. Please accept me, please cleanse me, please heal me and fill me with Your Holy Spirit. Satisfy the longing of my heart and fill the emptiness within. Satisfy me with Your love, O God, and help me to experience intimacy with You. Amen.
---
(Information from: Scott Thybony, Incredible Grand Canyon: Stories, History & Fun Facts, Grand Canyon Association, 2007, pp. 87-88)