Carrying More Than God Intended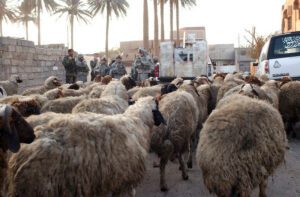 Today's domesticated sheep are descended from species that naturally shed their coat annually. However, selective cross breeding has generated our domestic breeds which only accumulate more and more wool. Therefore, it's necessary for owners to shear them at least once per year. 
But what would happen if a domestic sheep escaped and lived for years in the wild? Well, the public got a good idea recently. An Australian herder caught a domesticated sheep near Lancefield, Victoria who'd been roaming the bush for years.  
The sheep, named Baarack, was brought to Edgar's Mission Farm Sanctuary which cares for injured animals. Baarack had such an accumulation of wool that he could barely stand up under the load. The wool completely covered his ears and eyes, impairing both his hearing and vision. In fact, the heavy wool so compressed his ears against his skull that it tore off an ear tag Baarack once had. The cumbersome wool so weighed down Baarack's body that the skin of his neck was stretched paper-thin. 
Personnel at Edgar's immediately gave Baarack a shearing. The tally of the wool? They clipped 78 pounds of wool from Baarack's undernourished body. The heavy wool which covered his eyes and ears made it difficult for him to find food and left poor Baarack alarmingly underweight. He's now being nurtured back to health and has a permanent residence at Edgar's. 
Baarack's story reminded me of my last move. I retired from the Army out of Joint Base Lewis-Mc Chord, WA. Because I had two back-to-back assignments there, punctuated only by a one-year assignment to South Korea, we lived in the same house for eight years. That's the longest we've lived anywhere. And I was sure I'd never move again – ever. So, during our stay, I had no inhibitions against purchasing things – particularly books. I turned our garage into a library and my collection soared. The Pacific Northwest is a Mecca for used book stores and I went crazy.  
But less than a year after retirement, my wife and I felt God leading us to move to Springfield, MO to help in a ministry there. Now, what was I going to do with all those books? Books are heavy, and the Army had weight limits on what they'd move for us. I gave away everything I thought I could part with, but still there was too much left behind. When our movers boxed everything, we found we had 68 boxes of books. These books pushed us beyond our weight limit by 14,000 pounds. This not only cost us a fine of $5,000, but cost my spine some excruciating pain as I struggled to shift boxes of books throughout our new home. Two thirds of them ended up in our shed and I'm still in the process of getting rid of them.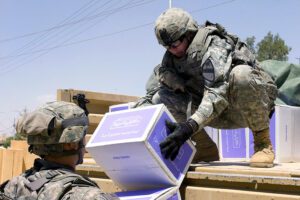 Possessions can really weigh us down. Why do we accumulate so much? I suspect possessions can give us a false sense of security. But storing away so much can easily turn to hoarding. It can smother a person's soul just as Baarack's multiple coats of wool became oppressive to him. And, as in my case, it can inhibit our ability to obey God's voice. 
But it's not just possessions that can crush us. In His parable of the sower, Jesus described the seed that fell among the thorns. These thorns choked the seed and made it unfruitful. He interpreted the thorns to mean "the worries of the world, the deceitfulness of riches, and the desires for other things (which) enter in and choke the word and make it unfruitful" (Mark 4:19). 
Do you find yourself weighed down – like me and Baarack – maybe not with too many books or too much wool? Perhaps you've become a prisoner to other things or pursuits that restrict you from doing God's will. Maybe, like the seed among the thorns, you're weighed down by worries and desires for too many things. This is more than God intended you to carry. So, ask God to free your heart from such things. Ask Him to do some "shearing" in your life and to liberate you from all which enslaves you.  
If you're burdened with worry, there's only one remedy for that. "Cast your burden upon the Lord and He will sustain you. He will never allow the righteous to be shaken" (Psalm 55:22). "Cast all your anxiety upon Him, for He cares for you" (1 Peter 5:7). "Don't worry about anything, but pray about everything. Present your requests to God through prayer and thanksgiving. And the peace of God, which transcends all comprehension will guard your hearts and minds in Christ Jesus" (Philippians 4:6-7). 
PRAYER: Dear Father in Heaven, You know when I'm carrying far more than You intended me to bear. If there's anything that weighs me down and restricts me from serving and obeying You, then please perform Your shearing on me. If it's too many possessions, then make me willing to give them away. If it's too many worries, then train me to cast my anxieties upon You. If it's desires and aspirations that conflict with Your plan for my life, then please soften my heart and help me to let them go. O God of heaven, please do Your sanctifying work in my life and make me more like Jesus. In His holy name I ask this, Amen. 
(Information from: https://www.upi.com/Odd_News/2021/02/24/australia-Baarack-sheep-overgrown-fleece-78-pounds/2231614192920/; https://915thebeat.com/news/7661780/78-pounds-of-wool-sheared-from-this-sheep-found-living-in-the-wild/) 
---