FIt seems to me that there's been a great many stories lately about anglers in little boats catching big fish.  For instance, on Valentine's Day, 2020, an Oklahoman caught a 157-pound paddlefish – a new world record.  However, his record isn't official.  The state law required him to release it and so its weight couldn't be verified.
Faith & Humility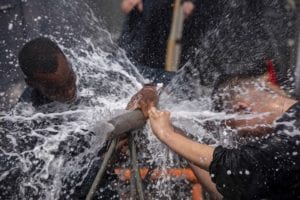 A day earlier, a Texan hauled in a 190-pound alligator gar.  This monster measured seven and a half feet long.  And that wasn't even a Texas record.  The record, set back in 1953, weighed in at 302 pounds.
A few weeks earlier, a Floridian wrestled in a 350-pound Warsaw grouper believed to be fifty year old.  But this didn't come close to the state record.  The record weighed more than 436 pounds.
You know, I spend quite a bit of time on the lakes of Missouri, not fishing but kayaking.  I see a lot of guys on small boats fishing and sometimes wonder, what such huge fishes would do to those little boats.  For instance, I can easily imagine a 190-pound alligator gar tipping a small boat right over.  Even if the fisherman managed to get the behemoth into his boat, if it began thrashing about it might capsize of break up his boat.  Do you remember the scene in the movie Jaws, where Roy Scheider's character first gets a glimpse of the killer great white shark and says, "We're gonna need a bigger boat."
Think about it.  There are times when we take on far more than God's designed us to carry.  We're so conditioned by steady messages to "be all you can be," "reach your maximum potential," and "the sky is the limit to what you can do."  And this is the message many people need to hear, especially those who are prone to self-doubt and under-achievement.  But, judging from the number of people dealing with anxiety and needing counseling, there are many more who feel the obligation to reach too high and to carry too many burdens.  They are like the angler who fishes for groupers or halibuts too big for his boat.
Faith & Wisdom
To such people Paul the apostle gives some critical guidance.
"For by the grace given to me I say to everyone among you not to think of himself more highly than he ought to think, but to think with sober judgment, each according to the measure of faith that God has assigned.  For as in one body we have many members, and the members do not all have the same function, so we, though many, are one body in Christ, and individually members one of another. Having gifts that differ according to the grace given to us, let us use them: if prophecy, in proportion to our faith; if service, in our serving; the one who teaches, in his teaching; the one who exhorts, in his exhortation; the one who contributes, in generosity; the one who leads, with zeal; the one who does acts of mercy, with cheerfulness" (Romans 12:3-8).
Faith & Teamwork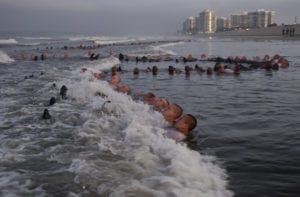 God has given to each of us a "measure" of faith.  It's not an unlimited amount, but a measured amount.  And it has its limitations.  Yes, the faith God has measured to us is like a boat with a certain carrying capacity.  Too often people feel like they've got to catch the biggest fish that swims the sea if they're ever going to be a success.  But what will that fish do to your boat once you hook it, reel it in, and try to haul it into your boat?  If you've got a twelve-foot boat with a five horsepower motor, your big catch just might capsize you.
But Paul tells us here in Romans to live within the limitations of our faith.  Yes, he tells us not to think more highly of ourselves than we ought to, but to use sober judgment when assessing our burden-bearing capacity.
For, Paul declares, God has raised up many others to help bear the load and you are not alone.  Just as a body has many members and each member performs a different function, so Christ's body is made up of many members and they all perform different functions to do the work of Christ.  So it's not necessary for you to "do it all" or to "be it all."  You are not alone in your labors.  God purposely made you with limitations, so that you'll learn to lean on others to help you do the job.
PRAYER
Dear Father in heaven, please grant me wisdom and sober judgment to correctly assess my own gifts and abilities – and the measure of faith You've given me to exercise them effectively.  May I seek only to do Your will, nothing more, nothing less, nothing else. Amen.
---
Photos:
-https://www.flickr.com/photos/usnavy/49680150231/
-https://www.flickr.com/photos/usnavy/49858559983/
(Information from: https://www.upi.com/Odd_News/2020/02/21/Oklahoma-mans-157-pound-paddlefish-unofficially-breaks-world-record/6491582299637/?sl=12; https://www.upi.com/Odd_News/2020/02/13/Texas-man-reels-in-190-pound-alligator-gar/9861581612244/?st_rec=6491582299637; https://www.upi.com/Odd_News/2020/01/10/350-pound-grouper-caught-in-Florida-believed-to-be-50-years-old/9891578685717/?st_rec=6491582299637)