Superbugs. They refer to those microbes which have become resistant to antibiotics and medications. This ability of superbugs to resist medications that once successfully treated it is referred to as "antimicrobial resistance."
Superbugs
Superbugs are a grave concern to the medical community. They are expected to kill up to 1.3 million people in Europe alone by the year 2060. The World Health Organization considers superbugs "one of the biggest threats to global health, food security, and development today."
Medical scientists are so desperate to discover replacement antibiotics that they are now exploring the validity of folk remedies. However, they believe they've found one that works. In Northern Ireland, in an area known as the Boho Highlands, County Fermanagh, is a soil that's reputed to have curative powers. For centuries locals have used this dirt, wrapped in cotton cloth, to heal a variety of sicknesses.
And what is the secret of its healing powers? Within this soil researchers have discovered a new strain of bacteria–Streptomyces sp. Myrophorea. This strain of Streptomyces has been tested against the top six superbugs that plague humanity. After that, it has successfully stopped growth in four of them. This includes the most common and difficult to treat, MRSA (Methicillin-resistant Staphylococcus aureus). Certainly, news of this superbug-killing bacterium, which thrives in lowly dirt, has excited the scientific and medical communities.
Worthless to Worth It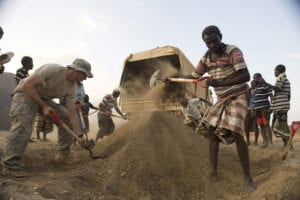 Think of it. From something most people (except farmers) consider as worthless and undesirable–dirt, comes a cure more promising than penicillin. The dirt of the Boho Highlands in Northern Ireland joins the long list of "worthless and unwanted" elements which are blessing humanity. Despicable things like horseshoe crabs, the Pacific yew, mosquitoes, poison ivy, cockroaches, lampreys, and venomous creatures are proving their worth to medicine and nature.
If God has stored away such wonderful things and miracle cures in the very basest of created things, isn't it likely that He's placed much more in us? If we continue to discover such useful properties in the most loathsome things, aren't we bound to find far greater attributes in each other? Despite our vilification of human beings, God has placed them at the very top of creation's hierarchy. Certainly, God's love for humanity generated His great redemptive plan. In conclusion, it is sending His own Son to pay the penalty of their sins (John 3:16–17; 1 John 4:10). Above all, for them, God has prepared His eternal kingdom—even from the foundation of the world (Matthew 25:34).
Unique Creatures
And, unlike any other creature, God has made each of us uniquely in His own image (Genesis 9:6). Isn't that fact more than enough reason for us to honor and value each other? More than any other creature, God has made us the object of His love (John 3:16). Doesn't that warrant kindness, love, and respect from each other?
Is it any wonder that Paul wrote us to, "Be devoted to one another in brotherly love; give preference to one another in honor" (Romans 12:10)? Should it surprise us that he commands us, "Do nothing from selfishness or empty conceit, but with humility of mind regard one another as more important than yourselves" (Philippians 2:3)?
PRAYER:
Dear Father in heaven, please open my eyes to the love You have for us and the worth You place upon us. May I never again treat with contempt those You have made in Your own image. Let me love as You love, dear Father. Amen.
---
In article photo: Dig deep by The U.S. Army licensed under BY CC 2.0