Over the last 20 years of my military career, my family and I spent over seven years apart, due to deployments,  remote/unaccompanied tours, and family needs.
During that time our two sons grew from pre-teens into adulthood. There are many ways to survive family separation. There are also many ways to turn a temporary separation into a permanent one. Here are a few suggestions about how servicemembers can negotiate the pitfalls of family separation. More help can be found here.
GET A HEAD START
Aside from the next item, relying on your faith, perhaps the most important thing you can do to survive a separation is to have the strongest possible relationship well before the time comes to depart. Healthy habits such as open communication and a strong prayer life take considerable time to develop. These habits should be in place before deployment, not hastily added afterthoughts in the midst of an already stressful time.
RELY ON YOUR FAITH
There's no substitute for a strong relationship with the living God to help us withstand every aspect of time apart.  It's best to make sure that the relationship is in place well before time apart begins. Although a deployed or PCS troop will have to find a chapel or church home after arriving downrange, the family should have a supportive church home. Christian friends (preferably military, who will understand the challenges), and a strong prayer and devotional life are essentials. But, don't limit yourselves to church activities, even though those should be the foundation of your approach to time apart.
FILL THE DAYS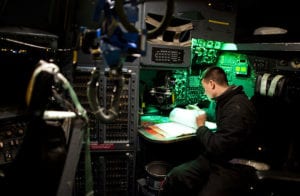 There is a wise adage that isn't found in so many words in Scripture, but it's entirely in line with biblical principles: "Work as if it all depends on you; pray as if it all depends on the Lord."  In regard to family separation, this means we shouldn't neglect the faith dimension of our lives as a resource. Nor should we assume that a full church life will be all that we need in order to come through a lengthy or difficult separation with our family intact. Hobbies such as learning a musical instrument, gym time, sports and reading, among others can help the time pass faster. These activities can take your mind off the separation, and leave less time and energy for mischief.
EXPECT IT TO HURT—AND THAT'S OKAY
Genesis 29:20 tells us that in order to have Laban's daughter Rachel as his wife, "Jacob served seven years to get Rachel, but they seemed like only a few days to him because of his love for her."  This has not been my experience!  Time seems to drag on forever if I'm apart from my spouse for more than just a few days. Genesis 2:22 tells us that "a man leaves his father and mother and is united to his wife, and they become one flesh."  If our flesh is torn apart, that is going to hurt!
When your vibrant deployed chapel family, or your CONUS prayer life, your Wednesday afternoon Bible study and your ministries, whatever they may be, don't seem to ever fill the void where your spouse should be—address that head-on.
When you find yourselves sailing through a separation without missing each other, you may begin to think that your spouse and/or children may not be essential to a fulfilled life. So, in some ways, you should expect it to be painful no matter what you do. The fact that you miss them means you love them and they are a vital part of your life! Being apart should be painful—so don't raise false expectations for yourself by thinking that there is some technique that will make it all better.
TALK!
Imagine waiting several weeks for just one letter to arrive, as recently as the Vietnam era; or waiting in line for several hours just to get your allotted 10-minute Christmas call home, in Korea in the early '80s.
With the advent of social media and the extension of Web access even into the remotest parts of the world, we have never had greater ease and opportunity to stay connected. So keep those lines of personal communication open—wide open. By that I mean, be totally honest about challenges, disappointments, temptations, and unmet expectations.  This should include sharing encouraging words, successes, and good news. Be totally honest about how much you miss each other, how the children are handling the separation, and so on.
With love and commitment, you can work together to prevent a temporary separation from becoming a permanent one.
As with most of the other suggestions, the time to start open communication is not two months into the deployment; begin right now to be open and honest with each other. Pray for each other about marital and other issues; pray with each other about concerns. My spouse and I did our best to end each conversation with a prayer, lifting up each other, and each other's needs, to the Lord. You'll reap benefits from such a practice whether you ever experience separation or not!
GET HELP
Don't be too proud to seek help; it's unrealistic to expect to be able to "go it alone" for long periods. These experiences are direct challenges to your life and marriage. Rely on friends to the extent you feel comfortable sharing. But, be aware of the potential danger of having a friend of the opposite gender under such circumstances. Seek counseling for perceived issues before the separation begins as well as for any issues that arise during it. Your chaplain has experience counseling couples facing the challenges of military life. Understand that he or she has experienced family separation in his or her own career. And remember, all counseling with a chaplain is 100% confidential.
"WHAT HAPPENS AT ______ STAYS AT ____"
In over 25 years of counseling both military members in remote settings as well as spouses back home, I've found the above concept is almost never true. Not that we should make our decisions based on the likelihood of getting caught. But, if it helps you to stay on the straight and narrow—then it helps you.
Don't assume that you won't have trouble in a given area…
Don't assume that you won't have trouble in a given area. Never put yourself at risk regarding sex, alcohol, money, or other potentially ruinous situations. My counseling experience has shown me that many times, it was the person who thought they could resist temptation—or who didn't believe they could even be tempted—who found themselves crossing a line.
DON'T GO IT ALONE
Have a support network—military member as well as spouse.
Have an accountability network—and for various reasons, that might not be the same people as your support network. For example, you may not feel comfortable sharing with your parents or your spouse's parents about temptations you are facing, so don't expect those in your support network to pull double duty.
Many of these TTPs may seem obvious, or even too simple, yet they have proven to work in successful marriages—and to be limited or lacking in unsuccessful ones. With love and commitment, you can work together to prevent a temporary separation from becoming a permanent one.
---