When You Reach Your Lowest Point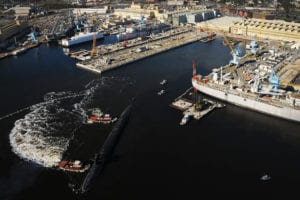 80-year-old Harry Harvey is a retired shipyard manager who lives in Tynemouth of northeast England. Nearly every Friday, Harry goes hiking somewhere in Yorkshire Dales National Park. This is a rugged hilly place, intersected with numerous valleys and canyons. But Harry always takes a friend along – to be safe. In the summer of 2020, however, a fierce hailstorm caused Harry and his friend to become separated.   
On Sunday, September 6, Harry's friend returned to the trailhead and waited for him. But Harry didn't show. So that evening Harry's wife and family filed a missing person report. When he still didn't come back on Monday, police, mountain rescue workers, and the Royal Air Force launched a full-blown search for Harry.   
By Wednesday, September 9, rescue workers and Harry's own family began to lose hope. They reasoned that an 80-year-old couldn't survive the mountainous terrain for five days. So, the family cooperated with television networks to participate in a news conference at the Tan Hill Inn, located inside the National Park. They wanted to put out one last, desperate appeal to the public to either help rescue Harry Harvey – or recover his body. 
Then, just minutes before the news conference began, guess who walks into the room? Yes, it was Harry Harvey himself – completely unharmed. He only had an abrasion on his forehead from falling off a log. Plus, he was tired from hiking so many extra miles, trying to find his way back. And he was very hungry. He'd only packed enough food and water for three days, not six. 
His family erupted in joy at his return. But their gratitude and relief included a measure of annoyance. They felt they'd been "put through the wringer" over Harry's extended camping trip and were just as tired as he was. Harry's oldest son barked out, "Dad, you're grounded." But how striking it was that, at this family's lowest point, their despair was turned to joy. 
This story is reminiscent of the time Tom Sawyer and his buddies (Huck Finn and Joe Harper) showed up at their own funeral. When their families and friends were at their lowest point, their darkness was turned to light.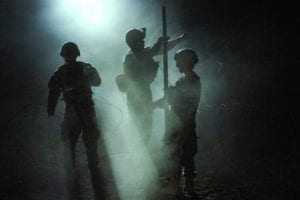 And do you remember the story of Peter's imprisonment by Herod Agrippa I (Acts 12:1-17)? James the apostle, one of the three "inner circle," was previously arrested and beheaded by Herod. When he saw it pleased the people of Jerusalem, he proceeded to arrest Peter – hoping to score more political points by killing him. But on the eve of his execution, the church was fervently praying for Peter's deliverance.  This must have been a low point for the church's faith. After all, God had not spared Jesus from death, nor James. Why should they believe Peter would be rescued? That's why, when Peter was miraculously delivered and came to the very prayer meeting being held for his sake, what is the church's response? They are just as shocked to see Peter as Harry Harvey's family was to see him. 
All of these – the news conference, the funeral, and the all-night prayer meeting – represented low points at which people were about to give up hope. They represent those times when we believe it's just too late for any good outcome. Yet, even at these lowest points, God is still present, powerful, and faithful. And He is always in charge of our emergency.   
I know Christian believers often struggle to discern which course of action to follow. Do they keep believing God and praying for a miracle, or do they accept the loss as God's will? But hasn't God commanded us to pray about everything, rather than worrying (Philippians 4:6-7)? Hasn't He charged us to cast our burdens and cares upon Him (Psalm 55:22; 1 Peter 5:7)?   
Remember, prayer is not counter to God's sovereignty. Prayer is not a human tool to attempt to twist God's arm. We must understand that God uses prayer as a way of making us partners with Him in the execution of His will. We should never reason, "Why should I pray? God will do whatever He wants anyway." Instead, we should acknowledge that God wants to incorporate our prayers into the ushering in of His rule on earth (Matthew 6:10).   
Plus, God uses prayer as a means of getting our undivided attention. Didn't Jesus say that eternal life consists of knowing God and His Son, Jesus Christ (John 17:3)? And what deepens our relationship with God more than talking with Him through prayer? And doesn't God reveal His concern and love for us through answered prayer? 
Therefore, whenever you're at your lowest, keep praying for the answer you desire. It's very likely that God has put a burden on your heart for the purpose of driving you to seek Him. And He plans to use your prayers to bring about the answer, the miracle, and the execution of His will.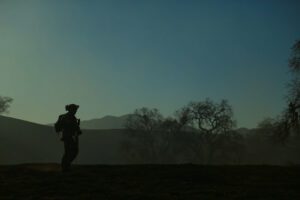 PRAYER: Dear Father in Heaven, please draw me into a deeper and more consistent communion with You. Help me to see that You have placed concerns and burdens on my heart that I might pray to You on their behalf – and that You want to use my prayers in the execution of Your divine purpose. So when I reach my darkest moments, grant that I will keep on believing and praying for the answer I desire. Amen. 
(Information from: https://www.express.co.uk/news/uk/1333194/Yorkshire-dales-missing-hiker-harry-harvey) 
---