When an 81-year-old German man calls the Polizei to report an unexploded WWII bomb in his garden, you have to take it serious. Why? Well, first, because unexploded ordnance is frequently uncovered by construction crews in Germany.
Fearful Precaution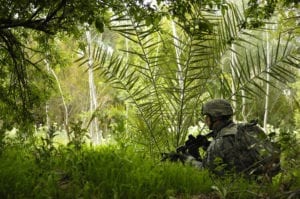 When this happens large numbers of residents have to be evacuated until the bomb is properly disposed of. And, second, an 81-year-old native German has lived through WWII and should know what he's talking about.
And this is what exactly happened in the town of Bretten, near the southwestern city of Karlsruhe, Germany. The police responded immediately. They alerted EOD teams and summoned back up law enforcement to assist with a mass evacuation of the area – perhaps numbering ten thousand residents or more.
Yet when the police arrived and made their initial investigation they did not find a bomb as they expected. What they did find was an unusually large, 11-pound and 16-inch zucchini. A neighbor had tossed it over a hedge into the old man's garden.
The police didn't press charges or even blame the old man for sounding a false alarm. They conceded that the big zucchini looked like a bomb at first glance. All the EOD teams and evacuation units were ordered to stand down.
The older I get the more I agree with Mark Twain's assessment of life's tragedies. He wrote, "I have been through many terrible things in my life, but only a few of them actually happened."
In other words, our fears and worries of what might  happen are a million times greater than what actually  happens.
The vast majority of bombs that clog our path are nothing more than big healthy zucchinis. Most of our zillions of fears never materialize.
The Priority of Thanksgiving & Prayer
Why do we worry in vain so much of the time? One reason is that we forget God's faithfulness to us in the past. We go from one "emergency" to the next without pausing to thank God for saving us from all (or any of) our past problems. This is why thanksgiving and counting our blessings are such important disciplines to practice. If we'd only get into the habit of giving thanks to God every day, we'd experience God's peace in every circumstance.
Another reason why we worry needlessly, is because we use prayer as a last resort instead of our first impulse. When a problem confronts us, we must always first exhaust every man-made solution, before we even think of turning to the Almighty, all-wise, and all-loving God to assist us. That's not the way God intended us to live.
God yearns for us to run into His arms with our every problem.
We are frequently told in Scripture to call upon Him (Psalm 50:15; 91:15; 120:1; Jeremiah 33:3), to cast our care upon Him (Psalm 55:22; 1 Peter 3:7), to commit our burdens to Him (Psalm 37:5-6), and to pray without ceasing (1 Thessalonians 5:17). God finds pleasure in hearing and answering our prayers.
Precious Promises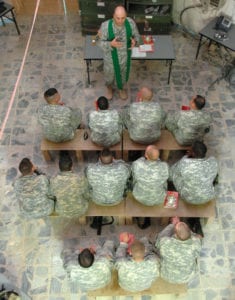 Another reason we expend so much energy worrying about life's challenges is because we pay no heed to God's promises. In the Bible God commands us not to fear and promises us deliverance hundreds of times (Genesis 15:1; 26:24; Exodus 14:13; Deuteronomy 21:1; 33:27; Joshua 1:5-9; Psalm 18, 23, 27, 34, 37, 46, 91, 121; Isaiah 41:10, 14; 43:1-3; Matthew 6:25-34; 2 Corinthians 12:9; etc.). If we'd feed our minds on these promises more often, our fears would wither away.
Don't let fear turn your garden into a minefield. Don't let fear darken your world since it is actually filled with light and blessings. Give thanks to your heavenly Father and count His blessings to you.  Make prayer your first response rather than your last resort. Feed your mind and soul on the promises of God's holy word, the Bible.
Prayer
Dear Father in heaven, fill my soul with Your presence, Your word, and Your light so that there will no longer be any room for fear. Train me, O God, to call on you in every crisis and to give thanks for every answer. Amen.
---
http://www.foxnews.com/science/2017/11/03/fears-squashed-zucchini-mistaken-for-wwii-bomb-in-germany.html