"Jesus was with Jesus."
That's what Jesus Escobar's wife shouted when she saw the picture of her husband's minivan after a 7,000-pound steel pipe fell on top of it and crushed it like an aluminum can. It all happened in Orlando, Florida as Mr. Escobar was exiting I-4. Yet, despite his car being flattened, Jesus Escobar survived the ordeal.
What makes this story all the more amazing is that the huge pipe fell from a highway overpass after the truck carrying it overturned. The massive pipe fell thirty feet directly onto the driver's side, making it impossible for Jesus to survive. Yet the 36-year-old father of three walked away from the scene with only minor injuries—a cut on his head and some bruises. Truly, Jesus was watching over Jesus.
Deliverance from Fear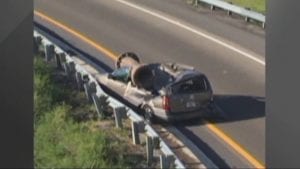 It's a common fear when driving on the highway, surrounded by 18-wheelers—that one of those huge steel pipes (or logs, or boulders, or new cars, etc.) might break loose and fall on top of us. Whenever I'm afraid, I often quote King David's words in Psalm 34:4, "I sought the LORD and He heard me and delivered me from all my fears." It's not really a promise, but the stunning testimony of a man who had every reason to fear.
For David faced innumerable dangers on the battlefield, in the royal court, and even among his own kinsmen and family. Yet his testimony proved true. David didn't die a violent death on the battlefield—as one might predict. He died peacefully on his bed, surrounded by those who loved him. God had delivered him from all his fears.
God, Our Shield
But Jesus Escobar's example bears witness that—even when our fears do come upon us (like one of those big pipes falling off a truck on top of us), God is still with us to protect and preserve us—and to give us the grace to endure. God has us covered. He is a shield to us that guards us on every side, above, and below. "His faithfulness will be your shield and all-encompassing armor" (Psalm 91:4). "But You, O LORD, are a shield around about me, my glory and the One who lifts my head" (Psalm 3:3). "The Angel of the LORD encamps around about those who fear Him, and delivers them" (Psalm 34:7).
Yes, the Lord is our covering and shield that protects us on every side. Even if the pipes and boulders do fall upon us, Jesus will be there to guard us, so that our testimony will be the same as David's: "I sought the LORD and He heard me and delivered me from all my fears."
PRAYER:
Dear Father in heaven, I pray for Your divine protection this day. Please preserve me and those I love from all danger and harm—physical and spiritual. As You promised in Your word, sanctify and preserve me completely—spirit, soul, and body—that I may stand blameless before Your glorious presence. Amen.
---
Information from: https://www.upi.com/Odd_News/2017/07/17/Driver-survives-when-7000-pound-pipe-crushes-van/6151500301980/