Chris Gursky is an auto-parts dealer from Florida. While vacationing with his wife in Switzerland he thought he'd try his hand at hang gliding. What better place to hang glide than in the Swiss Alps, where granite peaks rise abruptly from the level valley floor? The cliffs are perfect for this adventurous sport.
Chris received some basic instruction on how to take off, control, and land a hang glider. But for his first flight, Chris would not be allowed to fly solo. A seasoned instructor would be in charge and Chris would be merely strapped in for the ride. The instructor would do all the flying. At least that was the plan.
Chris and his instructor were bussed to the crest of a mountain, which towered 4,000 feet above the valley below. Then the instructor gave some last minute guidance and, as the two of them stood at the edge of the cliff, they lunged forward to be carried along by the updrafts.
That's when Chris and his instructor made a terrifying discovery. Chris' seasoned instructor had forgotten to strap his own student to the glider. Chris had to immediately hang on for dear life. With one hand he grasped his instructor's harness and with the other he clung to the control bar. And he did so for nearly four minutes, traveling at 45 MPH, until they could land the glider safely.
Then, while still suspended 10–15 feet above the ground, Chris lost his grip and dropped to the ground. He survived, but sustained a broken wrist. The Swiss Hang Gliding Association investigated his instructor. But Chris Gursky had no intention to pursue any legal action against him.
You know, people who work as guides and instructors in such adrenaline-pumping sports have reputations to maintain. It takes many guided tours through rapids, many successful parachute jumps, and many safe hang glider flights to build and maintain a good reputation as a trustworthy instructor-guide. And they are always conscious that just one mishap, injury, or death can destroy their credibility as a guide. This instructor's reputation took a serious blow—one from which it may never recover. He will always be known as the "knucklehead" who forgot to connect his student's harness to the hang glider.
King David
In biblical times shepherds had to work hard to establish and maintain a good reputation as well. To do so a shepherd had to do his best to keep his sheep well-fed, pest-free, and safe from predators and injury. This required constant vigilance, control over the sheep, a knowledge of the terrain, and aggression against the sheep's enemies.
King David was once a shepherd in his youth. And when he thought of his own around-the-clock vigilance for the good of the sheep he realized that he himself had a shepherd. It was God. In Psalm 23 David confesses that God lovingly and passionately feeds, guides, and protects him. In fact, David even suggests that God, as the Great Shepherd, has a reputation to jealously maintain. David wrote, "He guides me in the paths of righteousness for His name's sake."
Jesus the Good Shepherd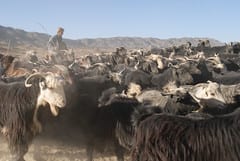 David realized something. Just as the loss of one sheep was a blemish on the reputation of a shepherd, so the loss of any child of God is a discredit to God. Therefore, God not only went to great lengths to purchase our pardon and redemption. He is also totally committed to doing everything to preserve our faith, to guard our souls, and to bring us safely into His heavenly Kingdom (Jude 24–25). Jesus, the Good Shepherd, is determined to say to His Father at the end of the age, "Of all whom You have given Me, I have lost none" (John 17:12).
If we should stray from the flock, Jesus will do whatever it takes to bring us back into the paths of righteousness (Ps. 23:3). His reputation is at stake. If Satan or his demons sneak up behind us to attack, He'll bash their heads in with His mighty rod (Ps. 23:4). No matter how hazardous and predator-infested the journey may be, Jesus will bring us safely through. Even if drought has dried up all the good pasture, Jesus will keep us fed and refresh us with living waters (Ps. 23:1–2). We've got absolutely nothing to fear. Jesus has a sparkling reputation. He's never lost a sheep or a battle. We're in good hands with Jesus Christ.
PRAYER:
Dear Lord Jesus, into Your loving and capable hands I commit my spirit, soul, and body. I trust in You to save me, cleanse me, forgive me, and bring me safely into Your heavenly Kingdom. Help me not to stray from the paths of righteousness nor be a troublesome sheep. Help me to follow more closely to Your side with each passing day. Amen.
---
Information from: https://news.sky.com/story/hang-glider-clings-on-for-his-life-after-pilot-fails-to-attach-safety-harness-11565178
https://www.foxnews.com/travel/american-tourist-describes-terrifying-hang-glider-mishap-switzerland
In article photo:afghanistan by the U.S. Army licensed under CC BY 2.0