It is sometimes referred to as "Stone Man Syndrome."  Its official name is Fibrodysplasia ossificans progressiva (FOP) and, fortunately, it is extremely rare.
Quicksand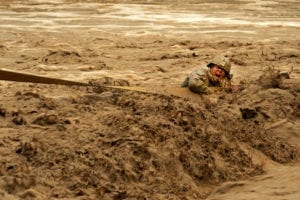 FOP is caused by a genetic mutation which hurts the body's ability to repair soft and fibrous tissue – muscle, tendons, and ligaments.  When people with this disorder injure a muscle or tendon, the body overreacts and ossifies the damaged tissue – i.e. replaces the soft tissue with bone.  This not only creates a lot of pain for the afflicted person.  It also immobilizes the affected area or limb.  Whenever surgeons have operated to remove the ossified tissue, the body overreacts again by creating more bone.
As the disorder progresses, all the joints in the body will freeze in time, because the ligaments will turn to bone.  Bone even covers the rib cage, making it difficult to breath.  In the end the afflicted person receives complete immobilization.  Even the jaw becomes locked.
Currently, there are no cures or effective treatments for this condition.  Therefore, people with FOP usually die before the age of 40.
It's a fact that many components of our bodies need to remain soft in order to function properly.  This is especially true for our muscles, tendons, and ligaments.  It is also true of our other internal organs, particularly our hearts.  If that all-important organ hardens, our lives would end.
Freedom or Paralysis?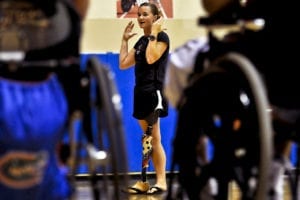 But there is a spiritual form of "Stone Man Syndrome" that affects us as well.  Sadly, this spiritual "hardening" is far more common than the rare physical disease.  It mostly affects our hearts when, after they are wounded, the healing process is stymied and instead of being repaired and softened, our hearts become hardened.
Whenever our hearts are wounded by the adversities of life, disappointments, or the offenses of others, we are faced with a critical decision.  We can hold onto the pain and allow it to define our lives. And in the end our hearts become so hardened that we become prisoners of our own bitterness.  Or, we can reach out to God for help and healing.  We can forgive those who've offended us and experience God's love and transforming power.
So which appeals to you more?  To become self-imprisoned by a hardened heart or to be healed, softened, and set free by God's healing power?  The Scripture gives this admonition: "Look after each other so that none of you fails to receive the grace of God. Watch out that no poisonous root of bitterness grows up to trouble you, corrupting many (Hebrews 12:15).
Prayer
Dear Father in heaven, please keep me from becoming hardened and embittered by the adversities and disappointments of this life.  Heal, soften, and renew my heart.   Develop in me an attitude of gratitude and thanksgiving, and renew me day by day.  Amen.
---