In the village of Sikandarpur in Uttar Pradesh, India, a colony of 2,000 monkeys has become a real plague…
Infestation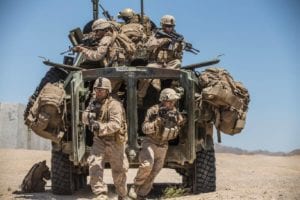 …They steal food from vendors, chase children, and are a general nuisance to the community.  The villagers have pleaded with their government to do something about the problem.  But their pleas either get ignored or the help they receive is wholly inadequate.  Whatever meager funds the village receives doesn't go very far.  It costs more than 600 Indian rupees ($8.41) to catch a single monkey.  Killing the monkeys is out of the question.  This is India.  Almost no one owns a rifle and their predominant religion, Hinduism, prohibits the killing of any animal.
But all is not lost in Sikandarpur.  The villagers got an idea for scaring the monkeys.  They took a collection and with the money purchased two bear costumes for 1,700 rupees ($23.82) each.  The costumes are armed with large fangs, long claws, and large glaring eyes.  The villagers take turns wearing the costume and roaming the village.
And it's working.  The monkeys are terrified of the bears.  They flee for their lives into the jungle whenever the "bears" approach.  According to the villagers, this solution has resulted in a sharp decline in thefts and attacks from the monkeys.
Faith Building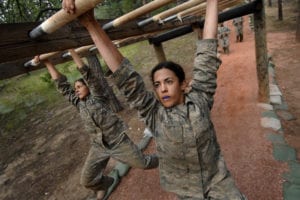 Now, imagine for a moment that you are one of those monkeys.  And you suddenly see a terrifying bear coming after you.  You know bears are ferocious animals and love to eat monkeys, so you panic and flee.  But it never occurs to you that the bear isn't really a bear.  It's just a helpless human dressed up as a bear.
Doesn't Satan and his horde of demons use the same tactics against us?  They always dress up our problems to look far fiercer than they really are.  We can pray for God to deliver us from those things we fear.  For it is often in God's plan to use that challenge to gain our attention and bring us back to Him in prayer.  He may also answer our prayer as a way of revealing His love to us and building our faith.
But quite often it is God's will that we face our challenges and problems – but only in His strength.  And as we do, more often than not we find that the problem is a powder puff.  Satan simply blew it way out of proportion and succeeded in making us panic.
Great Illusions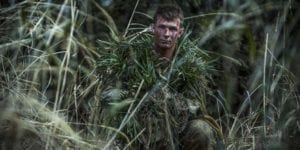 If a problem is staring you in the face, please don't panic.  Those aren't real bears chasing you, only feeble foes in bear costumes.  Satan is a master of deception and he excels in disguising our problems as our worst nightmare.  But God is faithful and He will not allow anything to overwhelm us or destroy our faith (1 Corinthians 10:13).  Therefore, if God must ensure that we get three meals per day, never get sick, and pay every bill on time in order to preserve our faith, He will most certainly do it.  God will do whatever it takes to keep our soul and to sustain our faith.
Of course God would love it if we'd grow to a higher level of faith.  He wants us to move beyond such a shaky footing and "no longer be infants, tossed back and forth by the waves, and blown here and there by every wind of teaching and by the cunning and craftiness of people in their deceitful scheming" (Ephesians 4:14).  He'd love it if we'd believe in Him and His word no matter what befalls us.  But, as Jesus prayed for Peter that his faith would not fail (Luke 22:31-32), God is also committed to us and will never allow us to be tempted or tested to the point that our faith crumbles.
So rest assured.  God will take care of you.  He will never leave you or forsake you (Joshua 1:5).
PRAYER
Dear Father in heaven, help me to keep my wits and to exercise my faith in Christ when problems and foes assail me.  Remind me, O God, that You are committed to the safekeeping of my soul and to the preservation of my faith.  Remind me that Jesus forever lives to intercede for me in heaven and He has given me the gift of the Holy Spirit as a guarantee of my eternal salvation.  Help me, O God, to believe Your infallible word rather than the distorted images the devil implants in my brain.  May I remember Jesus' promise, "…nothing shall by any means harm you" (Luke 10:19). In His holy name, Amen.
---
Photos:
-https://www.flickr.com/photos/marine_corps/27078753444/
-https://www.flickr.com/photos/usairforce/3775149115/
-https://www.flickr.com/photos/marine_corps/33262627262/
(Information from: https://www.foxnews.com/world/india-villagers-bears-monkeys)