Time is relentless, so it is not surprising that America is losing a generation of our finest hero warriors: those who fought bravely in World War II.
Their call to duty, their fierce bravery and limitless creativity turned the tide against the forces of both Imperial Japan and Nazi Germany. The toll was high, 416,800 American warriors were lost.
Many more heroes went home. As soon as their duty was completed, WWII vets went home to build their lives once again. Many warriors whose valor was clear went unheralded because they separated from the service before the medals could be distributed.
One such man is Earl Harvey Hanson of Ballard, West Virginia. His valor was unquestionable as he manned a gun on the deck of the ill-fated USS Rich, a Buckley-Class Destroyer during the Battle of Normandy on June 8th, 1944.
Hanson was thrown from the deck when a series of German mines detonated under the Rich. He suffered internal injuries, broken ribs and a punctured lung. Hanson fared much better than some. In all, 27 were killed, 73 wounded and 64 were reported missing. In the end, he was awarded the Purple Heart… by mail!
Now, 73 years later, Hanson (95) will be properly presented with his Purple Heart. On June 4, 2017, a number of Veteran's groups and about 100 people will gather to see Hanson receive his Purple Heart (given to service members who are wounded or killed while in action) from Jack L. Smock, Executive Officer at the US Navy Submarine Torpedo Facility in Yorktown, Virginia. (Smock grew up in Ballard, WV).
"He (Hanson) deserves the best from our country. I hope it gives him pride to see that people still recognize veterans."
– Jeannette Sibert, (Hanson's granddaughter)
Not every act of valor gets immediate recognition. Like Earl Harvey Hanson, you may have done everything expected of you in service and more. It might seem like no one around you fully understands what you've sacrificed in order to serve.
Often, when a warrior returns to civilian life, it seems like friends and family have no time to hear about what went on during deployment. If they do listen, they don't seem to have the right frame of reference. It often becomes easier to shut up than to explain one more time what went on and how it changed you.
You are not alone! Thousands of warriors have experienced the same things you have. They know the pain of people looking past them as they try to describe how deployment impacted your family, your work and every other area of your life. Warriors get it because they've endured the same life lessons, felt the same disappointments and the same exhilaration of battle that changed your life forever.
As a human being, you are created in God's image. You were meant for relationship with God.
Not every injury is as easy to recognize as an injured leg, a broken rib or a punctured lung. It doesn't make the pain any less real. Earl Harvey Hanson was blown from the deck of his ship and thrown underwater. Many contemporary warriors can empathize with that feeling of drowning. The emotions and sleeplessness are as oppressive as the waves of Normandy so many years ago. There are support groups like "REBOOT Combat Recovery" who offer warriors the opportunity to share experiences and challenges with others who've been downrange.
There is Someone Who Can Help!
Many have said, "There are no atheists in foxholes." That would be great if it were true, but many a warrior tries to cope with war alone. They never cry out to God for anything. That's unfortunate, because God has a heart for the warrior!
One of the greatest heroes of the Bible is Joshua. He was a follower of Moses and one of only a few Israelites who passed from the wilderness into the Promised Land. He was a covert ops specialist who scouted out the land of promise long before the nation was able to take it. Joshua led many battles against foreign powers. Even at 80 years old, he was a force to be reckoned with!
Their relationship went two ways. In Joshua 1:9 (NKJV), God stated, "Have I not commanded you? Be strong and of good courage; do not be afraid, nor be dismayed, for the Lord your God is with you wherever you go." In Joshua 24:15, Joshua says: "But as for me and my house, we will serve the Lord."
That kind of relationship is available to you today. God knows you've been faithful to duty. You answered the call to service. You went willingly. Best of all, He knows what makes you tick.
He also knows that your service as a warrior changed you. But, you are not so changed that He cannot relate to you. You are not so changed that you can't relate to Him.
It's a matter of recognition. As a human being, you are created in God's image. You were meant for relationship with God.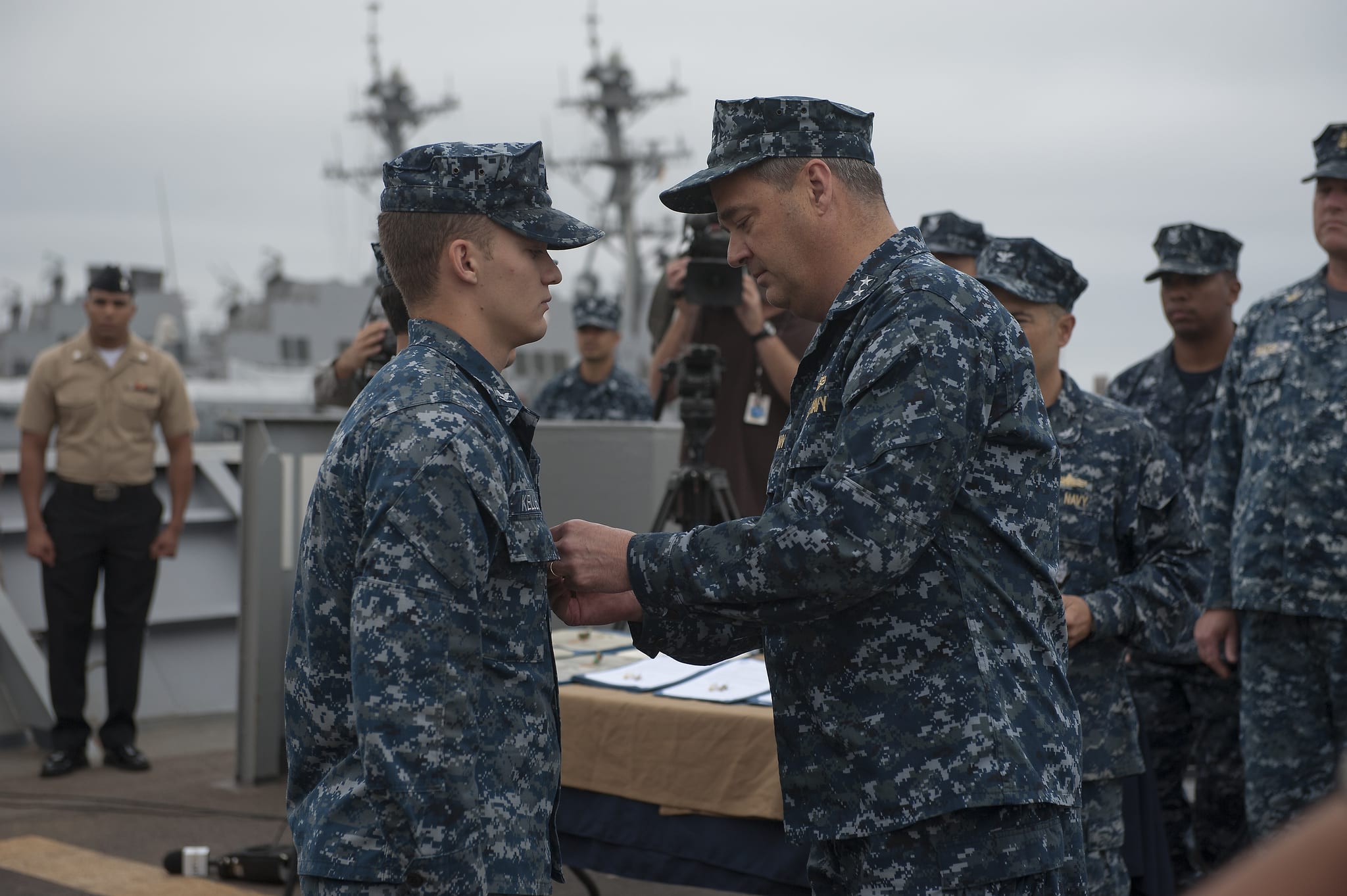 But as a person of both strengths and weaknesses you fall short of His glory. Sin is the power that weakens us. It is also what separates us from God.
So, no matter how you try, no matter how you train, you can't get past sin by yourself. That's where God comes in. He wants to restore the relationship with Him for which you were created. He offers His one and only son Jesus as the complete solution to the problems sin creates in your life. He offers you new life through Jesus Christ.
As you once responded to your nation, God wants you to respond to Him now. He calls you to a higher purpose than you've ever known before. He offers you a peace you've never known before.
In a way, recognizing what Jesus did for you is a bit like what the United States is doing for Earl Harvey Hanson. It's a long over-due recognition of a great gift of service. Christ gave His all so you can find peace and forgiveness today.
It all begins with a simple prayer:
Lord Jesus,
Thank you for providing the answer to my biggest needs. I admit that I have failed many times in my life. I've tried but never found a way to make it right. I understand that through Your sacrifice on the cross, you will make it right for me. I need that now. I choose You to be the Lord of my life. I want to enter Your service and live for You. Please forgive me and help me to begin my new life in You today. Amen!
If you prayed that prayer, click on one of the response buttons on this page. Someone who understands will connect with you.
---
http://www.foxnews.com/us/2017/05/19/wwii-navy-veteran-95-will-finally-be-presented-with-purple-heart-in-town-ceremony.html