At a glance this vessel looks like the craziest and most chaotic of all ships.
Seeing Sideways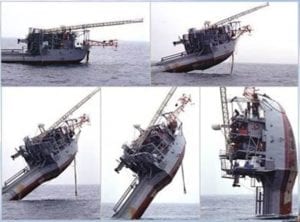 Inside it contains sinks, doors, tables and chairs turned sideways – as well as the very same items mounted upright. It's as if the bulkhead will turn on its side and become the deck.
And that's exactly what happens. This ship, called the FLIP (i.e. Floating Instrument Platform) literally flips. The FLIP was designed and built back in 1962. It measures 355 feet long and has small quarters at the front and a long hollow ballast at the end. Once it is towed out to sea at the correct location, its rear 300-foot ballast is filled with 700 tons of sea water, causing it to sink down while its forward section rises up out of the water into an upward vertical position.
All this happens in a mere 28 minutes. The crew must stand outside as the FLIP tilts from horizontal to vertical and the deck slowly becomes the bulkhead and the bulkhead becomes the deck. Like I said, it is the very picture of chaos and upheaval.
Stable Amidst Chaos
But would you believe that, though this ship might appear to be frighteningly unstable it is actually as stable as a ship can be. You see, with more than three quarters of its length below the surface and filled with sea water, the FLIP does not bob up and down nor rock sideways like a conventional ship. It remains immune to the action of the waves, perfectly still and quiet.
In fact, it must be completely stable and still so it can fulfill its mission: to study wave height, acoustic signals, water temperature and density, and for the collection of meteorological data. Many other important data are gathered using the FLIP. For instance, this specialized platform has been used to study "the way water circulates, how storm waves are formed, how seismic waves move, how heat is exchanged between the ocean and the atmosphere, and the sound made underwater by marine animals."
You know, in a way the FLIP mirrors the life of the one who follows Jesus. To read the Sermon on the Mount and the demands of Jesus Christ, it might first appear that He is calling us to a chaotic life, one fraught with upheavals and anxiety. Jesus calls us to save our lives by losing them, to find rest by taking up His yoke of service, to love our enemies, to pray for those who persecute us, to bless those who curse us, and to die to self in order to born again to eternal life.
He promises us tribulation, persecution, and hatred from the world for following Him.  At first glance this does not appear to be a desirable life, nor a stable or peaceful one. It sounds like Jesus is summoning us to a very precarious existence.
The True Source of Stability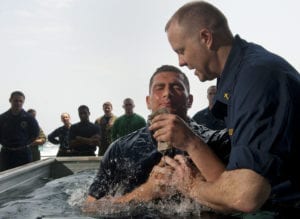 Yet, for the believer who entrusts his life into the loving and capable hands of Jesus, there will be peace that passes human understanding and inexpressible joy. Sure, to follow Jesus Christ will bring about life's ups and downs. But even when our lives seem turned on end, we will experience the peace of God which makes us immune to the raging tempest and crashing waves.
For the hand of the ever-vigilant Almighty is our pillow. His faithfulness is our shield and all-encompassing armor (Psalm 91:1-4). "God is our refuge and strength, an ever-present help in trouble. Therefore we will not fear, though the earth give way and the mountains fall into the heart of the sea, though its waters roar and foam and the mountains quake with their surging" (Psalm 46:1).
"Cast your burden upon the LORD and He will sustain you. He will never allow the righteous to be shaken" (Psalm 55:22). "You will keep him in perfect peace, whose mind is stayed on You, because he trusts in You" (Isaiah 26:3). As someone wisely put it:
"No Christ, no peace.  Know Christ, know peace."
Prayer
Dear Lord Jesus, into your loving and capable hands I entrust my life, my future, and my soul. Though the storms will hit me with all their fury, You will shelter me and strengthen me against them. Your love, O Lord, will turn my every curse into a blessing, my every hurt into a halo, and all my scars into stars. Amen.
---
(Information from: http://www.amusingplanet.com/2012/05/rp-flip-strangest-ship-in-world.html