The John Lewis store in Cheadle, England is just one of a chain of 45 upmarket department stores throughout the UK.  The one in Cheadle features large open area used for seasonal displays of furniture, appliances, landscaping equipment, vehicles, recreational and outdoor equipment, etc.  Sixty feet above the open market area is an overlook glass balcony, accessible only by an escalator.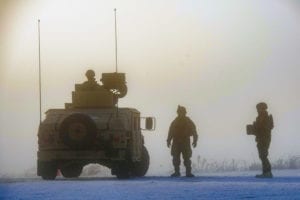 Earlier this year (February 2016) this setting made the headlines as the site of a major miracle.  The United Press International reported that a 60-year-old woman ascended the escalator to get a bird's eye view of the bargains below.  What happened next is not fully understood.  Either from illness or carelessness, the middle-aged woman lost her balance and fell over the low railing to the concrete floor, 60 feet below.  Numerous shoppers witnessed the event and gasped in horror.
Fortunately for the woman, on that particular week John Lewis wasn't displaying vehicles, landscaping equipment, or refrigerators beneath the balcony, but beds.  And the woman landed squarely on a very soft one.  Though badly shaken with a bruised hip and spine, the unidentified woman was otherwise unharmed.  Providence had arranged for just the right merchandise display to be in the right place at the right time.
Stories like this abound and they remind us that God is continually involved in our lives whether we acknowledge Him or not.  When Jesus told us to love our enemies and to do good to them, He explained that this is precisely what God does – continually. "But love your enemies, do good to them … and you will be children of the Most High, because he is kind to the ungrateful and wicked" (Luke 6:35-36).  I strongly suspect that God's protective measures in our lives are the norm, rather than the exception (Psalm 121).  Sure, all of us are involved in accidents and suffer injury from time to time.  But I strongly sense that the outcome would be far worse without God's vigilant care over us.
Yet we curse the fender benders and crashes for the damage they do to our vehicles and the delays they inflict upon our schedules – giving no thought at all that God has spared our lives through the ordeal.  I believe God is forever placing beds under balconies to cushion our falls.  He allows us to be shaken just enough to get our attention and, hopefully, drive us back into His loving embrace.
Why do we continue to run from the Heavenly Father who only loves us?   Stop and think about the events of your past.  If you take time to ponder them, you'll discover that even the most painful events were blessed with God's mercy and providential care.  He has never abandoned you and never will (Joshua 1:5-9).  Flee into His loving arms and let Him love you.
PRAYER:  Dear Father in heaven, I have no idea of the dangers from which You've protected me.  Far too often I'm oblivious to Your blessings and providential care that fills my life continually.  Please open my eyes, ears, and heart and reveal Yourself to me.  Make me mindful of Your blessings and help me to flee into Your loving embrace. Amen.
(Information from http://www.upi.com/Odd_News/2016/02/10/Woman-falls-60-feet-and-lands-on-bed-in-John-Lewis-store/1611455123931/?spt=sec&or=on; http://www.cleveland.com/world/index.ssf/2016/02/woman_falls_60_feet_from_briti.html; http://news.sky.com/story/1639042/woman-falls-60ft-in-john-lewis-and-lands-on-bed)
---