The Atlantic blue sea slug (Glaucus atlanticus) is a small and delicate creature that spends much of its life suspended in the warm waters of the ocean.  It floats near the surface with its blue side facing up (blending in with the blue water) and its silver side facing down (blending in with the sky).
The Powerful Punch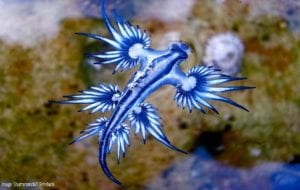 But far from being its only defense against predators, the tiny blue sea slug packs a powerful and painful punch.  Although it produces no venom of its own, this little guy feeds upon the Portuguese Man o' war – and other such venomous creatures.  It stores the man o' war's nemotocysts (stinging apparatus) in its tissue.  This makes the little blue invulnerable to predators.  It also makes the little blue sea slug an unwelcome prize for humans who wish to pick it up.
Like the little blue sea slug, we who believe in Jesus may seem defenseless against demonic and satanic attacks.  Apart from God's protecting, indeed we are powerless against them.  For, like the sea slug we produce no weapons of our own to make Satan tremble.  But when we feed upon God's holy word and store its truth and promises in our hearts and mind, it's like a painful venom to Satan.  Satan couldn't stand up to God's word when he attacked Jesus in the desert (Matthew 4:1-11).  Demonic forces are equally vulnerable to the sword of God's word.
The Powerful Empowerment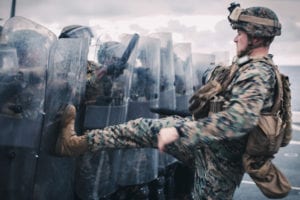 Being filled with the Holy Spirit is a most powerful defense against the demonic.  According to the apostle Paul, God seals the Christian believer with His Holy Spirit when they put their faith in Jesus Christ (2 Corinthians 1:22; 5:5; Ephesians 1:13-14; 4:30).  The Holy Spirit is God's mark of ownership upon the believer.  Believe me, if I saw a piece of luggage at the airport with the name Mike Tyson, Tyson Fury, or Deontay Wilder on it I'd be very slow to mess with it.  With the seal of the Spirit, God's name is upon us. This is why Paul commands us to "be filled with the Spirit" (Ephesians 5:18). For God's Spirit is a most formidable defense against satanic and demonic powers.
Prayer is also a defense against the spiritual forces of wickedness.  Paul mentions it as part of the "armor of God" in Ephesians 6:18.  And Jesus equated prayer with "standing guard" against the devil's temptations (Matthew 26:41).  And what is prayer but drawing strength, grace, and help from God?  We don't produce the power in ourselves, but we draw it from God.
In these times of fear and panic, we need our minds and our hearts to be at rest.  Our best defense against the devil and the fear he generates consists of God's word, His Holy Spirit, and the avenue of praying to God for all we need (Philippians 4:4-8).
PRAYER
Dear Father in heaven, please make me hungry for Your holy word and thirsty for You Holy Spirit.  Draw me, O God, into a deeper prayer life in which my weakness can be turned to strength and my turmoil into peace. Amen.
---
Photos:
-Below (Information from)
-https://www.flickr.com/photos/marine_corps/48820458768/
(Information from: https://en.wikipedia.org/wiki/Pelagic_zone)