CNN reported on June 16, 2016 that the Earth has a little friend – an orbiting asteroid.  Astronomers have just discovered this "mini-moon," which they call "2016 HO3."  It's between 120 and 300 feet in diameter (our moon is about 2,000 miles in diameter) and is about 9 million miles from Earth (about 36 times the distance our moon is from Earth), so there's no chance of it crashing into us.  Scientists say that this "quasi-satellite" has been in Earth-orbit for at least a century and will not be leaving us for a long time.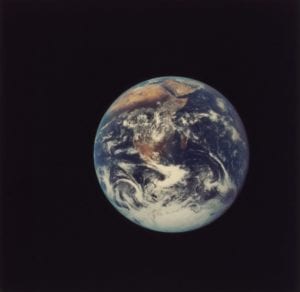 Yes, over the last century, while we've been peering into deep space, looking for other possible earth-like planets, we've been overlooking something much closer.  While we've been tracking comets and other astro-bodies that might one day be a threat to us, there's been a faithful friend journeying with us around the sun, year after year.
When I read this it reminded me of our tendency to overlook those closest to us and most faithful to us.  We do this while focusing all our attention on people who might make a better companion or on people who we consider to be a threat.  And while we are consumed by envy and fear, we fail to appreciate our friends, family, and loving spouse.
Are you upset about the few people who cause you grief?  Don't lose sight of all your supporters.  Are you coveting someone else's love and companionship?  Don't throw away the love of someone you already have for someone else who you don't even know.  Stop, think, and count your blessings.  You're far richer than you think.
PRAYER:  Dear Father in heaven, please open my blind eyes to see and appreciate the blessings I have – before I lose them through my own neglect.  Amen.
(Information from: http://www.kcci.com/national/small-asteroid-discovered-orbiting-earth/40085296)
---