In many ways the Church of Jesus Christ is a hospital that cares for the sick and wounded.  But don't get the wrong idea.  Christian believers are not the attending physicians, but the patients.  In fact, we are all life-long patients and will always be under the care of the Great Physician, Jesus Christ, while we walk this earth.  And because of His infinite power, intelligence, and love, there is no limit to the number of patients He accepts.  And there is no sickness so deadly and incurable that He will not heal.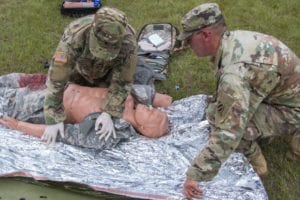 In fact, all the patients in Christ's hospital have a terminal illness – sin (Romans 3:23).  And the only way to gain acceptance to this hospital is to have this sickness – and to acknowledge it.  Therefore, those who insist they are perfectly healthy and don't need the Great Physician's care cannot be admitted.  For Christ only came to call sinners, not the righteous (Matthew 9:10-13; Mark 2:15-17).
Now, no physician ever had a reputation – and a record – like Jesus.  He has never lost a patient.  This is amazing, considering that all His patients come to Him when they are at their very worst.  They are all admitted through the morgue, for they're all dead in trespasses and sins when they arrive (Ephesians 2:1-3).  But Christ raises them up to newness of life (Ephesians 2:4-6).  He infuses them with His very Spirit, who renews them day after day (Romans 8:9-11; 2 Corinthians 4:16-17).  And for the rest of their time in Christ's hospital the Great Physician is preparing them for eternity with their Father in heaven.
Now, it's true that Christ wants us to assist Him in the care of others.  He will also use us to bring in new patients that they may also be saved.  But at no time in this life will they themselves ever cease to be Jesus' patients.  We are always in need of His care and tender love.
Are there any patients in Christ's hospital who never seem to get well?  Yes.  In Christ's hospital are there many patients who seem to get worse?  Most certainly.  But their worsening condition does not worry the Great Physician.  He knows that many of His treatments, such as surgery, will bring discomfort and will make the poor patient feel worse than before.  But the pain is redemptive, not judgmental.  And it's only temporary.  Just as a house that's marked for renovation will get worse (especially if it's gutted) before it gets better, it's a fact that many believers will follow the same pattern.  Therefore, it's imperative that the patient always have faith in the wisdom, power, and love of the Great Physician.  The Great Physician will never fail to save a patient who remains in His care.
I thought about this today when I read an article about a cardboard sign company in Colombia, South America which started making a new product.  In the wake of the Covid-19 pandemic, the ABC Displays company began making cardboard hospital beds that can convert to coffins when the patient dies.  These bed/coffins can support the weight of a person up to 330 pounds and are adjustable to raise and lower the patient.  Their cost: only $95.  The idea may seem terrifying to the patients, that the hospital staff does not expect them to "make it."  But the overwhelmed doctors see the bed/coffin's practical value.
But no such device ever enters Christ's hospital.  Jesus simply doesn't need them.  Oh, His patients may need beds, wheelchairs, crutches, walkers, or canes during their stay.  But they'll never need a coffin – for they will never suffer death.  You see, Jesus is fully determined to perfect the good work He began in them until their salvation is consummated (1 Corinthians 1:7-8; Philippians 1:6).  God did not pay such a staggering price (the death of His own Son) just to let us slip from His fingers (John 10:28-29).  He marshals all the resources of heaven to save us (Romans 8:31-39).  Jesus' only expectation for us is our full recovery.  When He poured out His heart to the Father on the eve of His crucifixion, Jesus only anticipated the success and salvation of His disciples (John 17:20-26).  So never despair, but always trust in the infinite wisdom, power, and love of your Great Physician.
PRAYER: Lord Jesus, into Your loving and capable hands I commit my spirit, soul, and body.  I cannot save myself, so I trust in Your infinite wisdom, power, and love to do the miraculous – to take me from my wretched state and to make me stand before Your glorious presence, blameless and joyful. Amen.
(Information from: https://www.theguardian.com/world/2020/may/27/colombia-coronavirus-cardboard-hospital-beds-coffins)
---