Have you heard the story of the Australian woman, Haidee Janetzki, who – before Covid-19 made its appearance – placed an online order for toilet paper?  She thought she was ordering 48 rolls of toilet paper for her family.  But, without knowing it, she clicked the button for 48 cases of toilet paper, each containing 48 rolls.  If you do the math, that's 2,304 rolls.
She thought no more about it until a truck delivered two pallets of toilet paper to her door.  Then she checked her credit card statement and saw the $3,264 charge to her account.  What were she and her husband going to do with 2,304 rolls of toilet paper?  They calculated that 48 cases would last them for the next twelve years.  What a stupid mistake!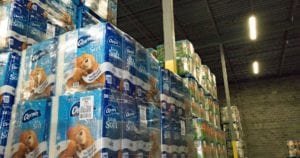 Of course, we know the rest of the story.  The Covid-19 virus hit China, then the world.  And for some inexplicable reason, a rumor spread that that there'd be a resulting toilet paper shortage.  Many people began to "panic buy" the stuff.  For most shoppers, however, the stores had no toilet paper to sell – for weeks.
Haidee and her husband realized they had a gold mine in their garage.  They put out the word that they had toilet paper for sale.  But rather than gouge their prices, Haidee made only a slight mark up on the many rolls she sold – enough to pay for her daughters to go on a school trip.  Her mistake was a blessing in disguise – to both her family and to many others who were unable to purchase one of life's necessities.
Anyone who's shopped online has probably messed up an order or two.  We can certainly sympathize with Haidee.  We might also recollect a time when a mistake we've made also turned out to be a blessing in disguise.
Haidee's mistake reminds me of the blunder made by Ollie Dee and Stannie Dum (played by Oliver Hardy and Stan Laurel) in the 1934 movie, Babes in Toyland (AKA March of the Wooden Soldiers).  Santa Claus placed an order with the toyshop for 600 wooden soldiers, each at one foot tall.  Stannie took the order but messed it up badly.  He copied the order as 100 wooden soldiers, each at six feet high.  When Santa came to the toy shop to check the progress of his order, he was shocked to find his toys turned into mechanical giants.  Now the shop was stuck with 100 six-foot mechanical marching soldiers that no one had any use for in Toyland.  After all, there'd never been an invasion in Toyland.  The toyshop manager was furious with Stan and Ollie and fired them.
Little did the inhabitants know that these "useless" giant toy soldiers would soon save the day!  For the evil Silas Barnaby would travel to Bogeyland and return with a hoard of bogeymen to conquer Toyland.  But when Ollie and Stannie pressed the "Start" button on all the 100 giant soldiers, they came to life.  The soldiers got into formation, marched out against the boogeymen, and drove them all into a crocodile-infested mote – never to be seen again.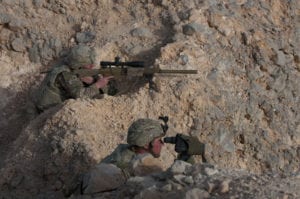 Of course, the greatest mistake humanity ever made took place 2,000 years ago.  It's when humanity murdered the Messiah, God's only Son.
But was it truly a mistake?  It's true that the Pharisees and chief priests knowingly and deliberately plotted to kill the Messiah (Matthew 21:33-47).  However, Peter acknowledged that the people who cried out for His death and carried out the Crucifixion acted ignorantly (Acts 3:17).  Indeed, Jesus' prayer from the cross indicates the same – "Father, forgive them, for they know not what they do" (Luke 23:34).  They knowingly condemned an innocent man and heartlessly tortured and crucified Him.  But they probably did not grasp the gravity of their crime.
Yet look at what God did with humanity's worst blunder.  God turned it into His greatest work of redemption.  Yes, the murder of His Son should have evoked God's wrath.  But God poured out the full fury of His wrath upon Jesus – instead of us.  He did this so He could pour out the full measure of His love and grace upon us.  And Jesus atoned for our sins, satisfied God's justice, and rose triumphant from the grave.
Can't God do the same with those mistakes that we've been grieving over for years.  Can't God take those mistakes, bless and sanctify them, and use them for good?  We read that God turns curses into blessings (Deuteronomy 23:5).  The Bible tells us that He takes what is intentionally evil and causes it to bring about good (Genesis 50:20).  And we read that, for those who love Him, He works all things (the pleasant and the painful) together for good (Romans 8:28).  Yes, Jesus can take those mistakes we make and bring about good from them.
PRAYER:  Dear Father in heaven, thank You for the supreme gift of Your holy Son, Jesus Christ.  Though we mistreated and murdered Him, thank You for using our horrendous and horrifying crime to bring about our salvation.  I do ask for Your forgiveness for the evil that I've done.  And I pray that You will take all my mistakes and offenses and redeem them.  Cause them, O God, to bring about good in my life and in the lives of others.  For all things are possible for You, O God.  In Jesus' name, Amen.
(Information from: https://www.insider.com/australian-family-buys-48-boxes-toilet-paper-coronavirus-purchase-2020-3)
---