The following excerpts come from Beyond Trauma by Dean Bonura.
…
Calvary's Cross
The redemptive aspects of the cross include understanding the role of the Holy Spirit, his indwelling presence, and his work of regeneration (Rom. 5:3–5; 8:14–17; Titus 3:5–7). Regeneration produces a "new self" which, according to Scripture, "is being renewed in knowledge after the image of its Creator" (Col. 3:10). This regenerative concept speaks to the believer's intrinsic worth before God. It identifies his or her uniqueness in the new creation as one who has been given a new identity, one who has been transferred from the "domain of darkness" to the "kingdom of his beloved Son" (Col. 1:13).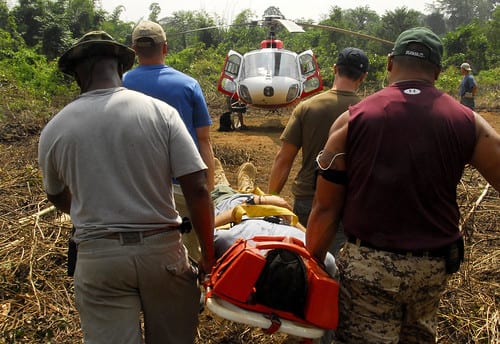 The believer's new status before God poses new possibilities, imparts new insights, and provides hope for renewal—the very things sufferers desire to receive. A believer's union with Christ qualifies the believer to share in the accomplishments of Christ—his death, burial, and resurrection—resulting in a new kind of life, free from the enslavement of sin (Rom. 6:3–11). Believers are citizens of heaven and are loved and accepted by God (Gal. 2:20; Phil. 3:20; 1 John 3:1). Through spiritual adoption, all believers are treated as sons and enjoy the benefits of sonship, including unfettered access to God and a newfound intimacy with him (Rom. 8:12–17).
An understanding of the cross of Christ leads one to explore the problem of evil and suffering. Through the cross, we address the various and multifaceted dimensions of suffering, including guilt, shame, fear, pain, isolation, abandonment, and loss. The cross reveals the physiological, psychological, and spiritual effects of trauma.
Jesus's crucifixion and subsequent resurrection suggest hope for the PTSD sufferer. The traumatic event of Christ's death finds new meaning in the resurrection. On one hand, there is tragedy; on the other, there is triumph. Addressing the juxtaposition of tragedy and triumph, we learn there is great utility in understanding trauma and personal tragedy through the lens of Christ's crucifixion. That event and its consequences suggest personal suffering may be viewed as something beneficial and an occasion for growth.4
…
The Meaning of Christ's Suffering
Christ's suffering was essential for the salvation of humankind. Hebrews 2:9–10 teaches that Christ, by his suffering, qualified himself to be the founder of our salvation. Verse 10 says, "For it was fitting that he, for whom and by whom all things exist, in bringing many sons to glory, should make the founder of their salvation perfect through suffering."
Christ's suffering fitted him for the task of redemption. The word translated "perfect" is teleioun, which comes from the adjective teleios. According to William Barclay, "The basic meaning of teleios in the New Testament is always that the thing or person so described fully carries out the purpose or the plan for which he or it was purposed and designed."16 Hence, in his suffering, Christ fulfilled the purposes of God regarding the redemption of humanity. Christ's humanity made our redemption possible. Barclay concludes, "If Jesus had come into this world in a form in which He could never have suffered, He would have been quite different from men; He would have been no Saviour for men."17
Christ's identity with humanity through suffering enabled him to sympathize with humanity (Heb. 4:15). It is precisely his humanity that enables the sufferer to relate to him and identify with him. As one who is uniquely qualified to save humankind and sympathize with it, Jesus understands human need and provides help (Heb. 4:15–16). Barclay adds, "The supreme truth of Jesus is that because He went through things Himself He can help others who are going through them."18 Here in this passage is an important point to emphasize as you work with warriors suffering with PTS: Jesus is qualified to help. He shares suffering and pain with all of those who suffer today. He knows what it is like because he has experienced it.
…
These excerpts pulled from Beyond Trauma by Dean Bonura.
---
4. McGrath, "Post-traumatic Growth," 303.
16. William Barclay, The Letter to the Hebrews (Philadelphia: The Westminster Press, 1957), 19.
17. Ibid., 20.
18. Ibid., 21.
---
Photos: laos by the U.S. Army. Licensed under CC BY 2.0.
Blackhorse Troopers Gear Up for Ranger Course by the U.S. Army. Licensed under CC BY 2.0.
---