When Joseph Badame returned to the US from a Peace Corps mission in Tunisia, he and his new bride were shocked by what they found.  Their hometown of Camden, NJ was in flames.  This was in the early 1970s and race riots had ravaged the city since 1969.  On top of this, gasoline shortages created long lines and soaring prices at the gas pumps.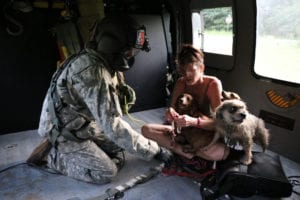 Joseph and his wife, Phyllis, foresaw terrible times ahead and decided to prepare for them.  They moved from Camden to the quiet town of Medford.  Then Joseph, an architectural engineer, developed a blueprint for a massive 8,500 square foot combination home/bunker/ fortress/fallout shelter.  He would go on to spend more than $1 million fortifying this complex with enough emergency equipment, fuel, and food stores to keep 100 people alive for one year.  This 3.4-acre compound was surrounded with a high-voltage electrified fence.  Their fortress would shield them and their loved ones against an economic disaster, a civil war, or a nuclear holocaust.
But none of those evils befell America.  In the end, it was a debilitating stroke – and subsequent financial problems – which touched the Badames.  Phyllis suffered a severe stroke in 2005, forcing her husband to quit his job to care for her.  She died in 2013, leaving him buried in debt.  Finally, in 2017, his creditors foreclosed on his house, forcing him to move into a 300-square-foot mobile home on a friend's property.  Then the looters moved in to strip his fortress of all its wiring, plumbing, and equipment.  In the end, his property was auctioned off for a mere $200,000.
The one redeeming aspect of this story was that Joseph finally put all his stores of food to use.  At the time of his home's foreclosure, Hurricane Maria devastated Puerto Rico.  Since his eighty 350-pound barrels of emergency food and 4,200 rolls of toilet paper were not included in the foreclosure, he donated them all for relief to the ravaged island.
What is most troubling about this story is that Joseph Badame is a person of faith.  Yet it seems that he gave little heed to Jesus' caution to His disciples in the Sermon on the Mount.
"Do not worry about your life, what you will eat or drink; or about your body, what you will wear. Is not life more than food, and the body more than clothes? Look at the birds of the air; they do not sow or reap or store away in barns, and yet your heavenly Father feeds them. Are you not much more valuable than they?  Can any one of you by worrying add a single hour to your life?  And why do you worry about clothes? See how the flowers of the field grow. They do not labor or spin.  Yet I tell you that not even Solomon in all his splendor was dressed like one of these.  If that is how God clothes the grass of the field, which is here today and tomorrow is thrown into the fire, will he not much more clothe you—you of little faith?  … But seek first his kingdom and his righteousness, and all these things will be given to you as well." (Matthew 6:25-30)
Remember, Jesus said that heaven and earth will pass away, but His word will never pass away (Matthew 24:35).  His promise will never expire or become invalid to those who make God their number one priority in life.  For God is our only sure defense against the calamities and tragedies of life (Psalm 121:2-8).  He will not allow any evil to befall us, except that which He permits for our ultimate and eternal good (Romans 5:3-5; 8:28; James 1:2-3).  So, before you invest your entire life and resources in a feeble effort to prepare against a crisis, seek Jesus as your Savior, help, and defense.  He will be your shield and all-encompassing armor (Psalm 3:3; 18:2; 91:4).
PRAYER:  Dear Father in heaven, at this time when we are drowning in fear, please remind us of Your unfailing promises to provide for and protect us if we will only follow Your Son, the Good Shepherd who lays down His life for the sheep. Amen.
(Information from:  https://www.washingtonpost.com/news/inspired-life/wp/2017/10/06/a-survivalist-filled-his-massive-basement-with-food-then-decided-puerto-ricans-needed-it-more/; https://www.nj.com/burlington/2018/05/chicken_coop_bomb_shelter_electrified_fence_must-h.html)
---