No one wants to be vulnerable—especially when it comes to having their feelings hurt.
It's a harsh world out there, and painful words can cut deeper than a sword.  How do we brace ourselves against the pain?  How do we deal with the pain that others inflict upon us? 
Mollusks have a distinct advantage over the rest of us.  When a mollusk wants to avoid injury it merely closes its shell and nothing can get inside, right? 
Actually, things do get inside the mollusk's shell.  Take, for instance, the Oyster.  Parasites, tiny pebbles, and grains of sand get into its shell and lodge in its soft tissues causing extreme irritation.  But consider how the oyster deals with pain.  The epithelial cells in the Oyster's sensitive inner tissues form a "pearl sac" around the irritant.  Then these epithelial cells begin to secrete a crystalline substance called "nacre" or "Mother of Pearl."  Coating after coating is applied to the irritant, until—it becomes a high-value pearl.   
Brokenness into Blessings
Of course, you know where I'm going with this.  But isn't it wiser, rather than to suppress or extract our pain, to let our pain fuel our genius and creativity?  To make a pearl from the pain?  Charles Haddon Spurgeon, the pastor of the largest church in England in the Nineteen Century, and even to this day is considered the "Prince of Preachers."  More than a hundred years after his death, his sermons which regularly drew thousands every Sunday, still inspire those that read them today.  Yet few realize the depression and emotional vexation that ravaged his soul.  Did he self-medicate to numb his pain?  No, he used it to fuel his inspiration, producing some of the most inspiring sermons ever preached.  His pain became another's gain.   
Mary Shelly's m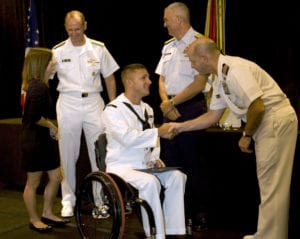 other died when she was just a girl and her cold and cruel father never showed her any love or affection.  This emotional abandonment left her scarred for life.  But she turned her scars into stars.  From her own story, she created another—the story of a "father" who abandoned the "child" he had created.  The story, first published in 1818, proved so popular that it has never gone out of print—the story of Frankenstein. 
There is no end to the list of broken people who took their brokenness and turned it into a blessing.  God designed Oysters to do this with painful intruders, to turn pain into pearls.  He designed people with the ability to do the same—to take the hurt others inflict on us and turn it into a halo.  The Scripture says: "Praise be to the God and Father of our Lord Jesus Christ, the Father of compassion and the God of all comfort, who comforts us in all our troubles, so that we can comfort those in any trouble with the comfort we ourselves have received from God. For just as the sufferings of Christ flow over into our lives, so also through Christ our comfort overflows" (2 Corinthians 1:3–5).   
PRAYER:
  Dear Father in heaven, I don't want to seek pain, for it will surely find me.  But when it comes, please bring Your healing and Your peace so that my pain may become gain—for me and for others. Amen. 
---
In article photo: Master-at-Arms 3rd Class Nathan R. DeWalt is congratulated by Capt. Oakley Key Watkins at the second annual Navy Safe Harbor Awards ceremony by The US Navy licensed under US Government Work