The San Francisco Gate recently published an article about a small hero who assisted the Lancaster Township Fire Department (Lancaster, PA). Six-year-old Janeysha Cruz spotted a smoky gray kitten trapped at the bottom of a storm drain.
Her mother contacted the fire department. When LTFD Deputy Chief Glenn Usdin arrived he realized this was no job for him, or any other adult. The opening to the drain was far too narrow and they were all too big. So, with Mrs. Cruz's permission, Deputy Usdin lowered Janesha Cruz through the small opening, three feet down, to the bottom of the drain. Little Janeysha gathered the kitten into her hands and passed him up to Chief Usdin, who then pulled the little girl up out of the drain. The article read, "Firefighters too big, but girl just right to rescue kitten."
Tailor-Made
Sometimes it pays to be small. Little hands can do things that big hands cannot. Many a parent who's locked themselves out of their home has called upon one of their small and nimble children to slip thru a partially opened window to get access back into the home and unlock the front door.
And so it is with the rest of life. God has tailor-made each of us for a purpose in life. God has gifted each of us with specialized abilities to achieve things that no one else can. Until the rescue of a kitten became necessary, this little girl lived in a world in which size and physical strength was all that mattered. Then her size and little hands became very important.
Don't be discouraged or doubt your worth to society and God. God has made you for a special purpose.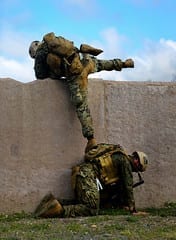 Perhaps you feel as if you're in a world that barely appreciates your abilities. Don't be discouraged or doubt your worth to society and God. God has made you for a special purpose. Perhaps that purpose has not yet presented itself and you are still a "discovery-in-waiting." Don't lose heart. Keep striving to be a blessing to others and God. Improve and develop your skills. Your time will surely come.
"God has made everything beautiful for its own time. He has planted eternity in the human heart, but even so, people cannot see the whole scope of God's work from beginning to end" (Eccl. 3:11).
PRAYER:
Dear Father in heaven, I thank you for who I am and for how You have made me. Even though my world seems to place little value on the attributes I possess, I know that You love me as I am and You've created me according to Your own specifications. Please help me to use my talents to serve You and others. Amen.
---
Information from: "Firefighters too big, but girl just right to rescue kitten," San Francisco Gate, May 29, 2015, https://gooddaysacramento.cbslocal.com/2015/05/30/firefighters-too-big-but-girl-just-right-to-rescue-kitten/
In article photo: Over the Wall by the U.S. Marines licensed under U.S. Govt. Works