Ferdinand Waldo Demara, Jr. was a real-life "Great Pretender."
Without training, academic degrees, credentials, ordination or a commission, Demara pretended to be (and received payment as) many things. Among his many identities, he impersonated a surgeon, psychologist, college dean, dentist, university professor, Naval officer, and a Trappist monk. Demara's phony life finally caught up with him and landed him an 18-month prison sentence—though he only served six months.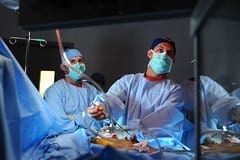 The amazing thing about Demara was that he actually performed quite well in many of his roles. In fact, consider his impersonation as surgeon in the Royal Canadian Navy. The phony "Dr. Joseph Cyr" performed brilliantly during a most critical time—under combat conditions during the Korean War. He removed tonsils, extracted teeth, administered anesthesia, and amputated limbs. In one life-saving effort, he removed a bullet from a wounded soldier that sat just one inch from his heart. Demara succeeded in every one of his medical procedures and never lost a single patient. He studied medical manuals before such operations and did his very best—saving many lives in the process. In fact, he was so successful that a popular magazine did a feature story on him.
Unfortunately for Demara, the mother of the real Dr. Joseph Cyr read the article and notified the magazine that their "hero" was an imposter. The magazine broke the news to the Canadian Government, but rather than administer military justice, the Navy simply dismissed him—with back pay. He had simply saved too many lives for the Navy to punish him. In the final analysis, credentials or not, Ferdinand Demara was the ship's surgeon.
God's call and blessing on our lives is, truthfully, all the validation and authorization we need.
And how many of us, from soldier to minister to homemaker, may feel a sense of inadequacy or even a sense of illegitimacy—that we are not "the genuine article." Why? Maybe it's because the role in life we fill receives no recognition, affirmation and "blessing" from others. Or, maybe it's because we do not have the education or training or certification others have and we live with the feeling that we are only pretenders. Yet, all the while we are effective in our work—often more effective that the "officially trained and certified" professional. If you can get the education, training, and certification you need, get it. But if you cannot, keep doing the work God has called you to do. God's call and blessing on our lives is, truthfully, all the validation and authorization we need.
PRAYER:
Dear Father in heaven, help me to be faithful in the work you have called me to do—even though I do it without man's recognition, praise, or affirmation. Help me to be faithful in secret that you may reward me openly. Amen.
---
In article photo: 100424-F-3622Z-024 by the U.S. Air Force licensed by U.S. Govt. Work