After Louis Daguerre invented one of the earliest photographic processes in 1837, the French Government declared his invention "Open to the world."
Through the Lens of Humanity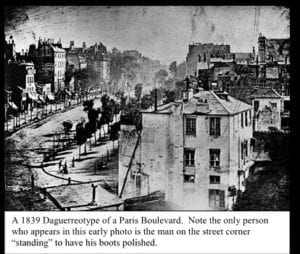 Immediately, "Daguerreotypes" began appearing from every continent. Photographs of the great cities of London, Paris, Cairo, and other great cities. But when these early photographs of busy city streets were displayed, viewers came away from the galleries puzzled.
There were no people in these photos. The pictures of Paris showed no people. It was as if all these cities were ghost towns. Where were all the people?
While the photographer took the picture, people were in the photo. The reason they did not appear in the pictures is because the people were in motion and it took more than ten minutes for the images to form on the chemically treated plates that were used in the cameras of that day.
Like the Daguerreotype's inability to discern people and animals in motion, so are our feeble senses inadequate to discern the actions of the living God.
Eyes on the Eternal
God is living and active and is light years ahead of our scrutiny as we attempt to "figure out" what He is doing behind the scenes on our behalf. The Scripture says, "His judgments are unsearchable and His ways are unfathomable" (Romans 11:33).
Consider the words of one of England's finest poet, William Cowper.
God moves in a mysterious way His wonders to perform,
He plants His footsteps on the sea and rides upon the storm.
Blind unbelief is sure to err and scan His work in vain,
God is His own interpreter and He will make it plain.
Judge not the Lord by feeble sense, but trust Him for His grace,
Behind a frowning providence faith sees a smiling face.
Fresh courage take you fearful saints, the clouds you so much dread,
Are big with mercy and will break with blessings on your heads.
Can't see God in your circumstances?  Don't worry about it.  God is moving too quickly for us to discern.  In the meantime, we are called to walk by faith and not by sight (2 Corinthians 5:7).  God is there, though you cannot see Him, and He is working out all things for His glory and your good (Romans 8:28).
Prayer
Dear Father in heaven, I have worn myself sick trying to figure out what You are doing in my life.  Help me to rest in your love, power, and wisdom, as I seek to please You and give You first place in my life. Amen.
---