According to a New York Times article (August 2, 1985), the entire lifeguard force of the New Orleans Recreation Department threw a pool party to celebrate their first season without a single water-related fatality.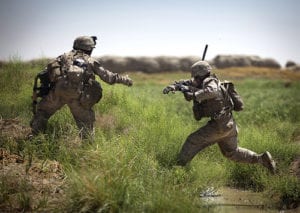 It was the first time in anyone's memory that no one had drowned in the city's public swimming pools. But as the party was winding down someone saw a man's body at the bottom of the pool. The drowning victim was not a lifeguard, just a guest. He was 31-year-old Jerome Moody. He went unnoticed despite the fact that more than 100 lifeguards were present and four were on duty.
This raises the question: How can so much help be so close without helping?
I asked the same question fifteen years ago when a division chaplain assistant took his own life—just outside of the division chaplain's office. How could help be so close without helping?
I'm sure we can suggest excuses. For instance, it's not uncommon for the helping professions to sometimes overlook "their own." Providers can be so mission-focused that they view their peers and subordinates as mere tools to accomplish the mission. Sometimes providers suffer a sort of "compassion fatigue"—they give so much to others that there's nothing left for those closest to them. Or perhaps they feel "it's unprofessional" for them to "render aid" or "minister" to someone they supervise.
But there are no excuses. If it is in our power to help then it is our duty to help. God's law of love transcends professional relationships, cultural barriers, and all technicalities. Even in the military, NCOs and Officers are not only required to lead their servicemembers to accomplish the mission. Additionally, they are expected to care for them as well. "Bear one another's burdens," wrote Paul the apostle, "and so fulfill the law of Christ" (Galatians 6:2).
PRAYER:
Dear Father in heaven, in my vigilance and diligence to help others, may I not lose sight of those closest to me and the members of my team. Give me clarity of mind and heart to understand that Your mission of love and salvation transcends all barriers and help me to be faithful to fulfill it. Amen.
---
In article photo: Field of Streams by U.S. Marines licensed under U.S. Gov Works