Military service can be physically, emotionally, mentally, socially, and spiritually challenging even to the strongest individual.
The US military recognizing this fact. And so provides resources to assist service members to deal with the circumstances associated with their service. One of the most enduring and endearing resources is the military chaplain. The chaplain is an "enduring" resource because the chaplaincy was established even before the United States became a nation.
General George Washington was organized the Continental Army in 1775. It was then he determined that chaplains should be a part of the army and they have been ever since. Today they continue to provide spiritual care for the men and women in our nation's Armed Forces. The chaplain is also one of the most "endearing" resources for Service Members because of the ministry they provide. Their pastoral care focuses upon the heart and soul of the service member. No other resource in the military has that specific mission.
As a member of the Armed Forces, what can the chaplain do to help you as an individual? For those who have ever asked the question, "What can my chaplain do to help me?"
Commitment to the Constitution:
The primary function of military chaplains is to assist the service member in the free exercise of his/her religious faith. This is true regardless of the branch of service. The chaplain exists to support you to live out your faith while you serve in the military. All military members take an oath to defend the Constitution of the United States. But the chaplain has the specific call to support the first amendment to the Constitution. The first amendment states, "Congress shall make no law respecting an establishment of religion, prohibiting the free exercise thereof."
You can expect that your chaplain will help you to exercise your faith during your service to the nation. Bear in mind though that your unit chaplain may not be from the same faith background as you. Chaplain enter the military as ordained members of the various denominations and faith groups found in the American culture. But they will still perform or provide for your religious requirements. If they come from a similar background to you, then they may be able to personally lead worship services or provide religious ministrations according to your faith. However if they are not from your background and can't perform the service, they can still provide assistance by referring you to another chaplain or religious leader. The bottom line is that they will help you with your faith.
They will help you with your faith.
Professional Competence:
You can expect that your chaplain will be professionally competent and able to guide you in ways to help you exercise your faith. Your chaplain  is a trained professional and must meet a certain criteria in order to be accessioned into the chaplaincy. They must have a Master's degree in Religious Studies, be ordained in their particular faith group, and be endorsed by that faith group to represent them in the military. That chaplain must also be accepted by a military board before they can enter the military. This screening process was created to attempt to bring only the best qualified clergy into the military.
Respect for Confidentiality:
Another way your chaplain can help you is by providing confidential counseling to allow you the freedom to discuss any issue without the fear that the subject will become known to others. Military law designates the chaplain as a safe person to talk to. Whatever you say to a chaplain, in confidence, is protected information that may not be shared outside of the counseling setting.  Your information belongs to you, therefore the chaplain can't and won't share it with anyone else unless you permit him/her to do so.
A Heart of Compassion:
Implicit in the calling of Christian clergy is a concern to love God and to love others. When asked about the most important commandment, Jesus answered that it is,
"'Love the Lord your God with all your heart, with all your soul, and with all your mind, and with all your strength.' This is the first commandment. And the second is this, 'You shall love your neighbor as yourself.'"
There is no other commandment greater than these, as explained in Mark 12:28-31. Chaplains represent many different religious organizations. However, Chaplains are expected to be compassionate and care about others. When facing crushing problems and it seems that the world is against you, it is helpful to have a chaplain who will compassionately receive you into a caring, pastoral relationship. They will listen and provide appropriate counsel; however, chaplains care enough to also confront when needed. Sometimes the most caring thing your chaplain can do is to challenge you to face tough issues. They may not deliver you from a problem, but can help you through the problem. When you need someone to lend an ear and a compassionate heart, go see a chaplain.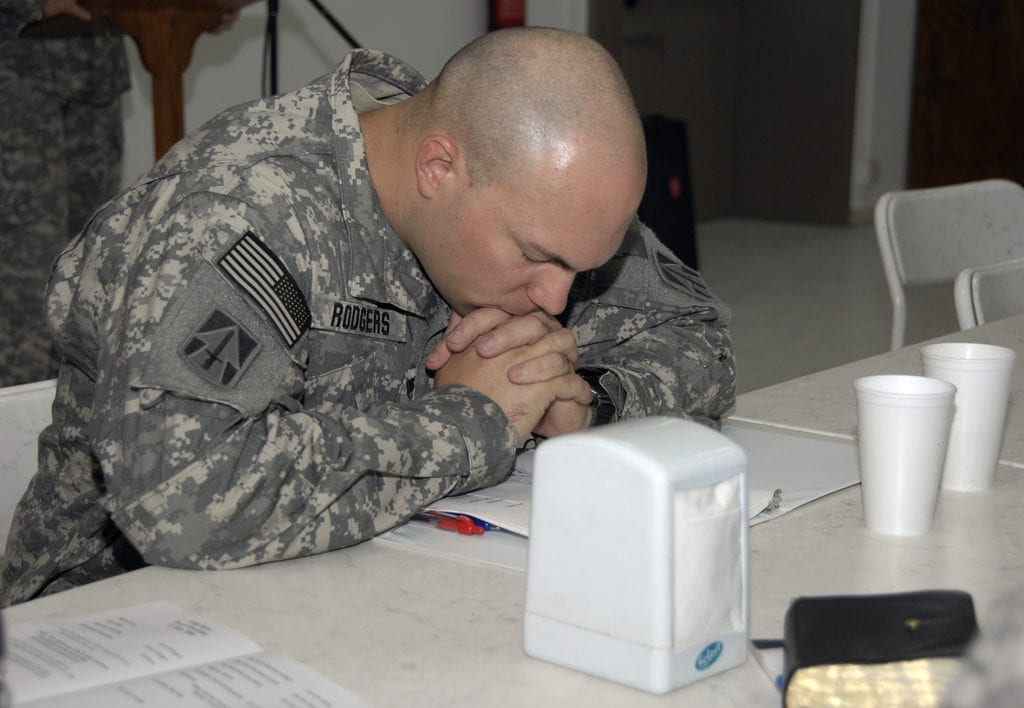 A Constant Companion:
The good news is that your chaplain is always available and can be a constant companion for those in the military. One big difference between the civilian pastor and the military chaplain is that the chaplain goes to work with his/her congregation.
Chaplains go wherever the US military personnel go. They work in the chapels on Air Force bases, serve on ships in the Navy, and deploy on the ground wherever the Marines and Army serve as land forces. They serve on the battlefield and go into harm's way alongside the men and women of the Armed Forces and are there when you need them most.
Someone once used the words of Ruth to describe the difference between a local civilian pastor who ministers at home, and a chaplain who deploys into combat with the troops. When Naomi departed to return to Israel, she told her daughters-in-law, Ruth and Orpah, to remain behind in Moab. Orpah remained much like a civilian pastor; however, Ruth would not allow Naomi to go away unless she took Ruth with her. Her inspirational words of devotion in Ruth 1:16-17 could represent to words of a chaplain to those s/he serves: "But Ruth said,
'Entreat me not to leave you, or to turn back from following after you; for where you go, I will go; and where you lodge, I will lodge. Your people shall be my people, and your God, my God. Where you die, I will die, and there will be buried. The Lord do so to me and more also if anything but death separates you and me.'"
You may ask, "What can my chaplain do to help me?" Your chaplain will assist you in the free exercise of your faith while providing you with competent, confidential, compassionate, and constant care.
---