I love my Mom's chocolate chips cookies. And eating just one is not an option. The sound of the blender mixing the dough, the smell from the oven, and the taste of warm cookies cannot be matched.
Imagine one day my Mom made a batch of cookies and told me in no uncertain terms not to eat even one? Threats and warnings would not take away my desire; and in fact, they would probably magnify it. The forbidden plus the enjoyment of cookies would be an overwhelming temptation.
What if instead, my Mom boiled lima beans (without salt and butter!) and she issued the same warning? Would I face the same temptation? Not on your life! The forbidden plus my aversion to plain lima beans would negate any temptation.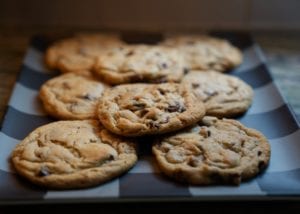 Temptation to chocolate chip cookies seems harmless enough but temptation does have a darker side. It's the work of our enemy, Satan, and he attacks through anything that brings us pleasure, fun, or thrills. When that "anything" is also forbidden, the pull seems irresistible. Whether it's sex, alcohol, food, or any other desire, we are walking into a spiritual war zone.
How does Satan conduct his warfare? He uses our flesh and the attractions of the world to trick us to turning away from God. The Bible describes the "flesh" as our self-centered cravings toward gluttony, envy, and impurity (see other examples in Galatians 5:13–21). The flesh is pulled toward the pleasurable things of this world which quickly get out of control. Satan (i.e., the Devil) uses all his resources to highlight, intensify, and trick us into pursuing our cravings for these pleasures (John 8:44, 1 John 2:15). So, when we are tempted, we are surrounded by the world, the flesh, and the Devil working in conjunction with one another to bait us, hook us, and hang us out to dry (James 1:13–15).
Overcoming These Enemies
How do we overcome not just one enemy but three? It will require us to apply one of the principles of war: mass. God gives us heavenly combat power directed at the right place and time to achieve decisive results. He does this in at least three ways:
Jesus' death on the cross gives us access to His power to say "No." Paul confirmed this when he told one of his "lieutenants," Titus, "For the grace of God has appeared that offers salvation to all people. It teaches us to say 'No' to ungodliness and worldly passions, and to live self-controlled, upright and godly lives in this present age" (Titus 2:11–12). God provides the ultimate power to live rightly.
He promises us something better. He doesn't take away our desires for food, sex, drink, and fun. That would make us robots and no longer human beings capable of making choices. Taking away desires is a shortcut because if He took away our desires for things like cookies, then He would have to remove all our taste buds. No, there is a better solution and that is His presence. David wrote long ago, "You make known to me the path of life; you will fill me with joy in your presence, with eternal pleasures at your right hand" (Ps. 16:11). God provides the ultimate pleasure that will never disappoint or run out—His presence.
He enables us to receive all things with gratitude. The pleasures of this world are gifts from God Himself. God gives us good gifts to enjoy (James 1:17). Paul confirmed this when he told his other "lieutenant," Timothy, "For everything God created is good, and nothing is to be rejected if it is received with thanksgiving, because it is consecrated by the word of God and prayer" (1 Tim. 4:4–5). When we dictate when, where, and how gifts are to be given, they cease to be gifts and become things we think we deserve. Instead we need to consecrate, or set apart as special, the things of the world. God provides gifts to be used for His purposes.
When we have the right mindset with the gifts God gives and are spending quality time with Him and His Word, we will be able to overcome our temptations. Ask Him to go to battle with you as you fight your temptations.
---
In article photo: Chocolate Chip Cookies Photo by John Dancy on Unsplash