Recently, on March 24, 2020, the UPI reported the story of a French marathon runner who refused to allow "home-restriction orders" to stop him from running.  In fact, he hasn't even allowed his home-restriction to keep him from running a marathon…
Confined Endurance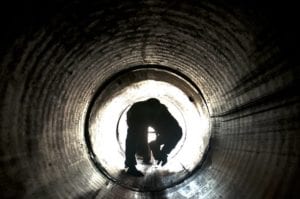 …That's right, 38-year-old Elisha Nochomovitz, ran an entire marathon on his apartment balcony.  Elisha had been training for the Barcelona Marathon that was scheduled for March 15.  Then, just days before it was to take place, the event was cancelled due to the Covid-19 outbreak.  A few days later, authorities in Toulouse (his hometown) required its people to remain at home and placed a restriction on outdoor activities.
For a runner, this is the equivalent of hell.  Well, maybe it's not exactly hell.  But, certainly for a person who's used to running outdoors every day, it's torture to be caged in a house.  But Elisha refused to be restrained from doing what is life and breath to him.  He determined to keep running, even if he had to it at home.  And along with daily running, he planned to run the Barcelona Marathon at home.
Elisha measured his balcony, just over 23-feet.  Then he divided it by the number of feet in a marathon – about 138,000 feet.  He calculated the number of balcony-lengths he'd have to run to equal a marathon –  6,000 lengths, or 3,000 laps.
Reality and Challenges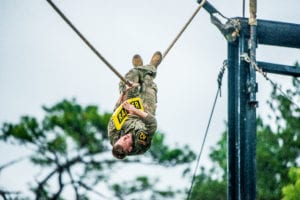 Now, running a marathon is enough of a challenge.  But running it on such a short course is a nightmare.  It wouldn't allow him to build up and sustain any speed.  Every 23 feet he'd have to make a 180 degree turn and run in the opposite direction – 6,000 times.  These 6,000 turns placed tremendous stress on the bones of his feet and ankles.
Of course, 6,000 180-degree turns would also kill his time.  Whereas a world-class runner normally completes a marathon in about two and a half hours, Elisha's time would be stretched out to nearly seven hours.  He'd neither have the cheering crowds nor a good running time to inspire him onward.  Instead there'd only be the monotony of his narrow balcony, like the pacing of an animal in a zoo cage.
Yet Elisha persevered and completed the run without stopping.  His time was 6:48.   His girlfriend assisted him by passing him drinks of Coke and giving him handfuls of M&Ms.
Victory or Defeat?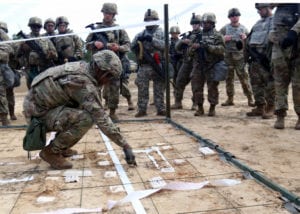 Think about it.  If a runner, forced to remain at home, can run a marathon, then can't Christian believers fulfill all their Christian duties amid the restrictions of the Covid-19 virus?  Christian believers must never take a break from being a disciple of Jesus.  The cancellation of worship services and Bible study is no excuse for giving up Bible reading, Bible study, and worship in the privacy of their homes.  Those disciplines should be exercised at all times, regardless if worship services are cancelled or not.
And Christians should also remain active in their congregations during the Covid-19 outbreak.  They can do this through the social media by checking church websites for prayer requests and viewing livestream services.  This is no time to take a break from serving Christ.  Our churches and our nation need prayer now more than ever.
Power of Prayer
And if our job has been temporarily closed, then God's given us more time and opportunity for prayer.  Let's use this time and opportunity for God and make them count for eternity.  Let's dedicate this period to the Lord and pray more.
God's word tells us, "If My people who are called by My name" – that's all believers – "will humble themselves and pray, and seek My face, and turn from their wicked ways, then I will hear from heaven, will forgive their sin, and heal their land" (2 Chronicles 7:14).  If God has placed us in America, then America is our land.  Remember.  God told the exiles of Israel to consider Babylon their land, to seek its peace and welfare, and to pray to God on its behalf (Jeremiah 29:1-7).  So, let's pray for this nation and for the health – spiritual and physical – of its people.  God will hear and answer our prayers.
PRAYER of Safety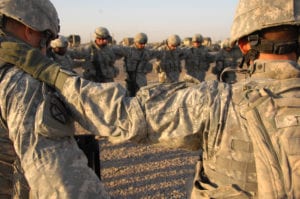 Dear Father in heaven, we approach Your throne of grace through Your holy Son, Jesus Christ.  We pray, Almighty Father, for the safety and salvation of America – just as You commanded the exiles of Israel to pray for idolatrous Babylon.  We ask, O God, that You will pour out Your Holy Spirit upon us and turn our hearts to You in faith and repentance and to each other in love and reconciliation.
Create in our hearts a hunger and thirst for righteousness, as well as an abhorrence for evil.  Like a prevailing wind, grant that Your Spirit will bend our hearts in Your direction.  And just as You resurrect every plant, tree, and shrub each spring, please resurrect our hearts.  Open our eyes to see You and our hearts to receive Your holy Son.  Raise up men and women of God in America to lead this nation on the path of righteousness.
PRAYER of Health
Dear Father, we also pray for the health of our nation, that You will destroy the Covid-19 virus and remove its threat from us.  Give strength and healing to those who are infected.  Protect those most vulnerable to this virus' ravages.  Give wisdom and guidance to our leaders so that they will respond to this threat in the best possible way.  May they be motivated, dear Lord, not by political pressure, but by a genuine concern for our people.  And, please, O God, don't let Your people be idle at this hour.  Stir their hearts to pray fervently for this nation.  Heal our land, we pray, through Jesus Christ our Lord. Amen.
---
Photos:
-https://www.flickr.com/photos/soldiersmediacenter/11187743084/
-https://www.flickr.com/photos/soldiersmediacenter/46706961845/
-https://www.flickr.com/photos/soldiersmediacenter/32040909747/
-https://www.flickr.com/photos/soldiersmediacenter/2123440884/
(Information from: https://www.upi.com/Odd_News/2020/03/24/French-athlete-runs-entire-marathon-on-apartment-balcony/9541585077087/?sl=6)