Do you remember the opening scene from the movie, Gone with the Wind? It begins with a team of African American slaves whose labors for the day are done as a bell rings in the distance signaling, "Quitten' Time!" One slave looks to the others and says, "It's quitten' time!"  
Another burley slave confronts his fellow slave, "What do you mean, it's quitten' time? I'm the foreman, and it ain't quitten' time till I says it's quitten time." He then turns to his team and belts out, "It's quitten' time!" 
"Don't overstep your bounds." "Stay out of my lane." "Don't tread on my turf." It seems that people are always taking offense at someone who violates their space, who gives unsolicited advice, or intrudes in on our sphere of influence. Unfortunately, productivity and the mission suffer when a foreman or supervisor spends too much time arguing with his subordinates over "who's the boss." 
Consider one strange case in baseball when an umpire essentially destroyed a game in his efforts to assert "his authority." The year was 1913. The New York Giants were battling the Philadelphia Phillies. By the bottom of the 10th inning both sides were still scoreless. The Giants had one man on third base, Fred Merkle, and were bringing in Frank McCormick as a pinch hitter.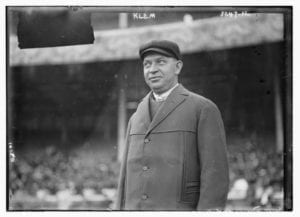 McCormick stepped up to home plate. The Phillies pitcher, Grover Cleveland Alexander, wound up and pitched a fastball. But as Alexander was releasing his first pitch umpire Bill Klem turned his back to the players. Facing the stands, he began to announce that Frank McCormick would pinch hit for another player. But Frank McCormick was focused on what was in front of him, not behind him. It's a good thing, for he hammered Alexander's fastball into left field. Thereby driving Fred Merkle from third base to home plate to score the winning run. But even as Merkle trotted to home, umpire Bill Klem was still giving his announcement, oblivious to the game and to the roar of the crowds. Then, sensing that something was amiss, he turned to find that most of the players had cleared the field and gone to the dugouts.  
Infuriated that the game had gone on without him, the slighted umpire tracked down Frank McCormick to the pressroom. Once found, he demanded that he return to the field. He explained that the last hit of the game did not count. Therefore, the game was not yet over. At his insistence both teams crawled back onto the field and resumed playing – but not until umpire Bill Klem made his "longest announcement in history" a second time. 
Unfortunately, Klem had robbed that game of its most critical event and its only run. On his second time at bat Frank McCormick grounded out. After 11 innings the game had to be called because of darkness. It went into the record books as a 0-0 tie.
Perhaps Bill Klem went home that night satisfied that he had "set everyone straight." But he had also disappointed and frustrated a crowd of 30,000 fans who came to watch baseball.  
Some clerks and minor officials have obstructed the military's mission over the smallest of technicalities. Most servicemembers have had their fill with them. And too often this "stonewalling" stems not from their zeal for "attention to detail" but from taking offence because someone trespassed the boundaries of their little world. 
There is a cure for this childish and frustrating behavior. The prescription comes from the Apostle Paul. In Philippians 2:3-8 he wrote: "Let nothing be done through selfish ambition or conceit, but in an attitude of humility, let each of you consider others as more important than himself. Let each of you look out not only for his own interests, but also for the interests of others. Let this attitude be in you which was also in Christ Jesus, who was God by very nature, yet did not regard equality with God a thing to be grasped. Instead He made Himself nothing and took upon Himself the form of a slave. … He humbled Himself and became obedient to the point of death, even the death of the cross." 
PRAYER:
Dear Father in Heaven, turn my eyes to Jesus again and again. When people stomp on my feelings, disregard my responsibilities, and fail to appreciate my obligations and contributions – please remind me of Jesus and all that He suffered. Lift my eyes also to see the greater mission and may all that I do contribute to its success. Amen. 
---
Information from: https://thesportsarchivesblog.com/2014/08/06/the-sports-archives-when1913-umpire-bill-klem-had-last-word/