Therefore, since we are surrounded by such a great cloud of witnesses, let us throw off everything that hinders and the sin that so easily entangles. And let us run with perseverance the race marked out for us, fixing our eyes on Jesus, the pioneer and perfecter of faith. For the joy set before him he endured the cross, scorning its shame, and sat down at the right hand of the throne of God. Consider him who endured such opposition from sinners, so that you will not grow weary and lose heart. (Hebrews 12:1-3)
"Embrace the Suck."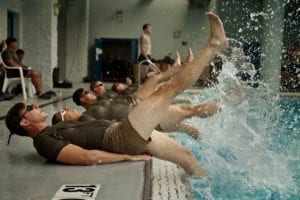 A motivational phrase used by generations of warriors who know we have a job to do no matter how tough (or boring) it is. It's also a call to endure the months and years of sometimes thankless tasks we are required to perform.
Should believers in Christ simply "Embrace the Suck" or is there a better approach? God calls us to live differently from the world, and the writer of Hebrews points us in the right direction.
No one really knows who wrote Hebrews, but it's clear that chapter 12 is written so that we would not grow weary and lose heart. The writer wants us to embrace the struggles and agonies of life without burnout, exhaustion, or giving up. It's a call to give everything we have to the challenge set before us. So how do we do that?
Consider Jesus
We do that by "considering" Jesus. This command directs away from passive acceptance of our circumstances and instead calculate what Jesus has done for us. It's a conscious decision to think deeply and systematically about all that He went through. It's like completing an After-Action Report that is guaranteed to be used by God to change us.
What did Jesus do? He endured. That's more than embracing the suck. It's standing your ground even when a heavy weight is placed upon you. It's carrying a rucksack mile after mile, even past the point of exhaustion. It's working day in and day out at a deployed location in freezing cold or blazing hot weather. It's holding your own when everything in you screams "give up."
Jesus demonstrated his ability to endure by facing a lifetime of opposition and open hostility, most prominently at the cross. He scorned the shame associated with this cruel and humiliating form of capital punishment. Jesus hated the embarrassment of being beaten, hanging naked for all to see, for a crime He didn't commit. He despised being thought of and treated worse than nothing when in fact He was so much more.
Three Things We do
This supreme act of love on our behalf is more than a motivational example. It's God's way of forgiving us and empowering us to live differently, especially when there's a need to persevere. His endurance becomes our power source to endure as we do three things.
Fix Our Eyes
First, we need to fix our eyes on Jesus. He is The Commander of our faith. Like any good leader, He went first and finished what He was tasked to do. He blazed the trail, paved the way, cleared the path for us. His work on the cross made it possible for us to be different, to change the way we live our lives. His leadership provides us with the capability to embrace and endure the worst of circumstances. When we fix our eyes on Him, we study His life and follow His example until we can claim "Mission Complete."
Run With Perseverance
Second, we run with perseverance. That's the same word as "endure" which Jesus did for us on the cross. We need that type of perspective because the race is not easy. Don't think 5K fun run. Think obstacle course with live fire. The Greek word for "race" is where we get our word "agony." The writer of Hebrews is telling us life can be very painful, but we don't give up because we will finish the course as we fix our eyes on Jesus.
Throw Off Weight
Third, we throw off what weighs us down. It's an action of disregarding and putting away things we don't need—things that will get in the way of completing the obstacle course of life. That starts with everything that hinders. The word hinders literally means "bulk." Completing an obstacle course with our entire issue of uniforms wouldn't make sense. We would only carry what is necessary to get to the finish.
Throwing off the bulk also means we need to avoid "barbwire" temptations, the things that can entangle and wound us. Whether it's contributing to the latest gossip or looking at pornography, we can easily get caught up in failures and mistakes. Running with endurance demands we are always on the lookout for things that will snag us.
Ready?
The writer of Hebrews mentioned a cloud of witness reminding us we are not alone in our race. Chapter 11 is the Hall of Faith describing some of these ancient warriors who endured, even when that meant being tortured or sawed in two.
Before you commit to embracing the suck, try a better way. Commit to enduring a difficult and sometimes agonizing race like Jesus did. But in your commitment remember you are never alone; your Heavenly Commander who completed the course has come back to complete it with you.
Are you ready to take the first step?
---
In article photos in order of appearance: Splish Splash by the U.S. Marines licensed under U.S. Govt. Work
iraq by the U.S. Army licensed under CC BY 2.0