CW4 Scott Spurling is a friend. He had been struggling with a leg injury for a long time.
Slow to No Progression
A few months ago Scott underwent an upper tibial osteotomy, i.e. doctors sliced a wedge of bone from his upper tibia (leg bone) just below his knee. This left a half-inch gap between the two ends of the severed bone, over which doctors screwed a metal plate, in hopes that the bone would heal itself and fill in the gap. But again and again, he received the discouraging report: "It hasn't healed like it should have." Multiple checkups followed with little or no progress. And during this long stretch of misery Scott has had to hobble around on two crutches.
After being in pain for so long, it's natural for all of us to nurture the broken part, to lavish it with tender loving care. It's natural to protect it from bumps and to certainly shelter it from any work or stress. Yet recently the doctor told Scott to only use one crutch and to "begin putting some pressure on that leg." He said, "Unless you put some stress on that wounded bone it will remain weak. But if you begin to apply a measure of stress, your body will respond by healing and strengthening that part that was once broken."
Spiritual Strength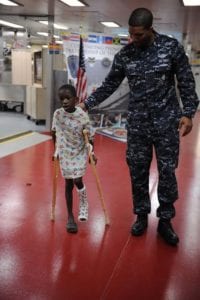 Is that sound advice? To work the part that hurts? When a doctor prescribes such treatment, yes, it is sound advice. Of course, no one prescribes his own surgery, recovery plan, or medication. So, that's for the one with the medical degree to decide. And when we are spiritually broken, it's for God, the Great Physician, to prescribe the cure.
But understand this: God's prescription for recovery can be just as befuddling as the human doctor's. That is to say, God may prescribe stressful circumstances, pressures, or tribulations to an already troubled soul. God may prescribe Christian service to the weary (Matthew 11:28–30). He may bring grieving and broken-hearted people to those whose own hearts are wounded and bleeding. We may be tempted to question His wisdom. "Why does He work the part that hurts?" But be assured, God knows what He's doing. As Paul, the apostle confessed, "Oh, the depth of the riches of the wisdom and knowledge of God! How unsearchable are his judgments, and his paths beyond tracing out!" (Romans 11:33)
PRAYER:
Dear Father in heaven, please help me to trust You when I do not understand Your ways and when I am called to suffer. Please heal and strengthen that part of me which is broken and lame. Amen.
---
In article photo: Sailor/Md. native steadies a Jamaican boy learning to use crutches aboard USNS Comfort. by Official U.S. Navy Page licensed under U.S. Gov Works