"I missed the train!"
I was sure of it. I arrived at the Shin-Yokohama train station an hour early. There, I was to board the Japanese "Bullet Train," the Shinkansen bound for Hiroshima. But with so much time on my hands I felt no pressure to hurry to the train platform. Not until later, with about 15 minutes to spare, I arrived at the platform and my mouth dropped open – a train with "Hiroshima" on its "destination sign" was closing its doors and beginning to leave the station – at 0916.
"What! Did I miss my train? Did they change the departure time?" I was sure my train left at 0926. I must have misread the departure time and mistaken 0916 for 0926.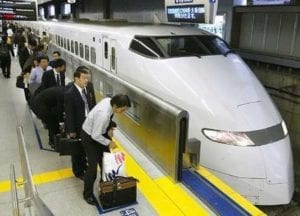 I looked at the station's big monitor and saw no other trains bound for Hiroshima for the next couple hours – except the one I missed.
Another train arrived. I asked one of the conductors, "Does this train go to Hiroshima?" Maybe the train stopped at Hiroshima on its way to another final destination. "No," barked the conductor. "Not Hiroshima train!"
"I blew it! I misread the ticket and missed my train!"
Then I waited five minutes more, then ten, for another "Hiroshima train" to pop up on the "departure monitors." But none appeared.
Then I noticed the fine print under one of the trains on the monitor. It had a list of stops along the way to its final destination and one of them was Hiroshima!
"Maybe I can piggy-back on that train." So as the train rolled in, I showed the conductor my ticket and asked if I could "ride along" in order to get to Hiroshima.
He waved me inside. Once inside, I asked assistance from a passenger to find an empty seat. After being seated I breathed a sigh of relief. I was on my way.
But as the train pulled from the station a sense of not belonging, of trespassing, and of being a stowaway began to haunt me. I wasn't where I should be. I had missed my train. My rightful place was somewhere else, but I had missed out. I was on the wrong train, a train that would eventually get to Hiroshima, but only after making multiple stops in ten other cities. I could have been riding the express train to Hiroshima. I had missed the very best and now was stuck with distant second best.
What if God, in His wisdom and omniscience, has actually used our mistakes and incorporated them into His divine plan?
Then a PA announcement was piped-in and an electronic message flashed onto the screen at the front of our train car. It read: "Welcome to the Nozomi 15 Express Shinkansen bound for Oyama, Kyoto, Osaka, Hiroshima …"
The Nozomi 15? That sounded familiar. I pulled out my ticket and gave it a closer look. It read: "Nozomi 15" – the very train I was on. The car number? It read Car #12 – the very car I was on. The seat number? It read Seat #4D – the very seat I was sitting in. And … the departure time? The departure time on my ticket read 0929, not 0926 and certainly not 0916 – the supposed time of the "very best" train. All that time I had been grieving over missing my train and in reality I hadn't missed anything. And that haunting realization that I wasn't where I should be?
It was a mistaken notion. I wasn't a stowaway,a mere tag-a-long, illegitimate or taking someone else's rightful place. I was exactly where I belonged; a bona fide passenger on the very train I had been booked for.
Yet that feeling of illegitimacy continued. "David, stop paying heed to your feelings. Pay attention to your itinerary and your ticket. You're not a stowaway. You're a genuine passenger on this train. Stop thinking that you could have done better. You're exactly where you should be."
I had to repeat it several times for the reality to sink in. I had mistakenly assumed that I missed my train and drew a series of wrong conclusions, all making me feel out of place, unworthy, and wrong.
Could this also be true of how we feel toward our station in life? Have we long regretted the path our lives have taken? Do we grieve over life-changing decisions we've made and live with a sense of having missed "God's best" for our lives?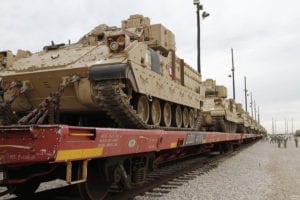 But what if we're wrong about being wrong? What if our mistakes in the past were only minor and did no damage to God's plan for our lives? In fact, what if God (in His wisdom and omniscience) has actually used our mistakes and incorporated them into His divine plan?
What if, when we stand before Christ at the end of the age, we find out that it was God's sovereignty – not our stupidity – that planted us in the garden of His choice? If you doubt this you're in store for a terrific shock. For that's exactly what God does. He used the failures of men like Judah, Moses, David, and Peter to accomplish His perfect will.
If there are any legitimate regrets that we should have, it is that we have allowed regret to rob us of our joy and peace and inspiration to serve God more fervently.
So make the most of every opportunity your situation affords. Trust in God's sovereignty. Labor for the Lord wherever you can, knowing that your labor for the Lord is never in vain (1 Corinthians 15:58).
PRAYER:
Dear Father in heaven, thank You that the controlling forces in my life are not my weakness and foolishness, but Your love, wisdom, sovereignty, and power. Please help me to make the most of my days to share Your Gospel, to demonstrate Your love, and to spread Your kingdom. Amen.
---