How To Best Handle A Rattlesnake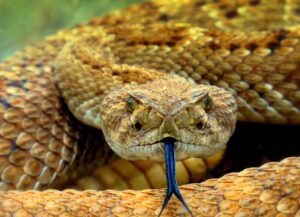 In the time I've spent in West Texas and New Mexico, I've run across a number of rattlesnakes. Normally, when this happens I either simply avoid them or (if it's on the road and in danger of being run over) I'll grab a long stick and, from a safe distance, try to prod them off to the wayside. But my prodding is almost always unsuccessful. I only succeed in riling the snake, instead of persuading it to do the smart and right thing – to get off the road! My pushing and prodding only agitates the snake and make him meaner than before.   
But my stepmother, who used to routinely find rattlesnakes in her yard, had a different approach to dealing with them. Whenever she came across a rattlesnake coiled up on her patio or in her shed or on her front lawn, she'd whip out her .44 Magnum and blow its head off. Her reasoning was, "There's no negotiating with or persuading a rattlesnake. The only way to make it do what you want is to kill it."   
This is analogous to the way God deals with our sinful nature, as described by Paul the apostle in Romans chapters 6-7. There he explains God's ultimate answer in dealing with our sinful nature – our corrupted heart that is enslaved to selfishness, arrogance, anger, lust, bigotry, and a host of other bad things. In mankind's redemptive history, God first left the heart of sinful humanity alone. The heart of mankind was evil and desperately sick. Yet the sinful nature seemed to remain dormant – like a rattlesnake sunning itself on a highway, oblivious to its danger. Then, says Paul, God gave mankind the Law with its Ten Commandments.   
This Law did not change or subdue our sinful nature. Instead, the Law, by its prodding and poking commandments, succeeding only in aggravating our sinful nature, inciting our sinful hearts to more sinful activity – making us meaner and more doomed than ever.   
But then God sent His Son who, through His violent death on the cross, inflicted a mortal wound on the sinful nature in the hearts of those who trust in Him. Now, although the sinful nature still puts up quite a fight, its mortal wound condemns it to a losing battle in which Christ, through us, will gain the inevitable triumph. But clearly, there is no other way to subdue the sinful nature. Poking it with commands only rubs it the wrong way and incites it to greater activity. It must be killed. And Christ alone is able to inflict that mortal wound upon it, so that our inner person – who is born from above – grows stronger and stronger, while the old rattlesnake within us grows weaker and weaker. As Paul explains, "When we were controlled by our old nature, sinful desires were at work within us, and the law aroused these evil desires that produced a harvest of sinful deeds, resulting in death" (Romans 7:5, New Living Translation). But how did God deal with this cantankerous sinful nature? "We know that our old sinful selves were crucified with Christ so that sin might lose its power in our lives. We are no longer slaves to sin. For when we died with Christ we were set free from the power of sin" (Romans 6:6-7, New Living Translation).   
By His cross, as with using a .44 Magnum on a rattlesnake, Christ inflicts a fatal wound on the old sinful person within us and creates a new person in its place. Does your life seem out of control and spiraling downward – not necessarily from influences and problems around you, but from your own hurtful heart? Then open your soul to Jesus and let Him do His saving work within you. If you are a believer in Christ, but continue to struggle with sinful temptations, do not despair. Trust yourself to Christ's power and love – and your many sins to his all-powerful sacrifice. You're not fighting a losing battle. "The God of peace will soon crush Satan under your feet" (Romans 16:20). 
PRAYER: Create in me a pure heart, O God, and renew a steadfast spirit within me. Take out of me my heart of stone and replace it with a new heart and a new spirit that hungers for You. Amen. 
---