Captain John H. Hedley of the 20th Squadron, Royal Flying Corps, wasn't the greatest of aces in WWI.
That honor belonged to Germany's Manfred von Richthofen, the Red Baron, who scored 80 enemy kills. Captain Hedley only had 11 kills to his credit. And both he and his copilot, Captain Robert Kirkman, were eventually shot down in March 1918. Though they were uninjured in the crash, the two spent the rest of war in a German prisoner of war (POW) camp.
God specializes in fixing the impossible
Yet John Hedley did earn an interesting title. His compatriots nicknamed him "the Luckiest Man Alive." Why such a moniker? It's an amazing story. On January 6, 1918, Hedley and his pilot, Captain Reginald Makepeace had flown to over 10,000 feet when they came under fire from some German fighters. The pilot took some rather violent evasive maneuvers. He rolled their plane, a Bristol F.2 fighter, into a vertical dive. He escaped the German planes, but ejected Captain Hedley out of his seat in the process. Captain Makepeace sensed something was wrong and glanced behind him. Hedley was gone. The pilot assumed he had tumbled to his death.
But in a stroke of incredible luck Captain Hedley, caught in the down draft of the diving plane, managed to keep pace with it. He grasped its tail, then shimmy his way up the fuselage and climbed back into his seat – an amazing recovery from a truly hopeless situation!
You know, this reminds me of situations – some I've read about and a few I've experienced. I'm not talking about desperate situations with planes, but with circumstances that appeared to be so hopeless that there was no expectation of recovery. The story of Esther in the Bible is a good example, where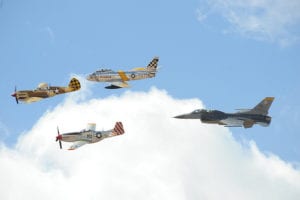 the very survival of the Jewish people hung in the balance and seemed doubtful at best. But just when all seemed to be lost, God intervened and turned their night into day. The story of Joseph in the Book of Genesis is another darkness to light story, in which Joseph reached the depths of despair as a prisoner in Egypt, unjustly condemned and forgotten. But the Lord was with Joseph and turned his curses into blessings.
Maybe something very bad and painful has happened to you. Maybe it seems as though the world has come to a screeching halt and you fear you have no tomorrow. It's like you've fallen from the plane – a fatal accident that gives no hope of recovery. But God specializes in fixing the impossible. In the gospels, the disciples looked to Jesus and cried, "Lord, who can be saved?" Jesus looked at them and said, "With man it's impossible, but not with God. For all things are possible with God," (Mark 10:27, English Standard Version).
PRAYER:
Dear Father in heaven, I pray for those who feel that all is lost and think there is no point in going on. Please bring help and hope to that person. Take them by the hand, lift them out of despair, and turn their night into day. Amen.
---
i (Information from https://en.wikipedia.org/wiki/John_Herbert_Hedley)