It's the smallest inhabited island in the world.  So says Guinness World's Records.  What's its name?  The island has the name – "Just Room Enough Island."  It's located near the New York side of the St. Lawrence River in the Thousand Islands archipelago.  Its original name was Hub Island.  In the 1950s the Sizeland family purchased it.   
"Just Enough"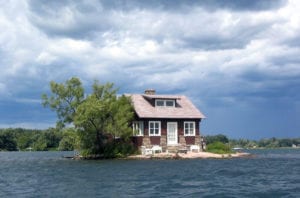 At the time, the Sizelands were informed that the world's smallest inhabited island was Bishop Rock, just off the Isles of Scilly.  But Bishop Rock was twice the size of Hub Island.  Therefore, to take the title for the world's smallest inhabited island, the Sizelands had to meet several requirements.  To be considered an island their piece of rock had to be at least one square foot, remain above water year round, and have at least one tree.  Hub Island only met the first two requirements.  So the Sizelands planted their tree.  But to be considered an inhabited island, it needed a one-family structure.  So they built their house – and renamed it Just Room Enough Island.  Indeed, it just barely had enough room for their house, a tree, and two cement benches out front. 
But there are risks in living so small.  Any review of photos of the island will reveal that the house is vulnerable to periodic floods and even the wake of motorboats.  Sure, they had enough land to build a house, but not much else.  If their family should grow, building extensions is not an option. 
Complacency is Dangerous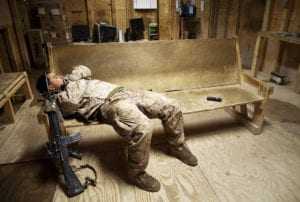 The plight of Just Room Enough Island reminds me of many Christians who only want enough of God in their lives to keep them afloat and out of hell.  They have no desire to grow in their relationship with God.  There's no drive to know Him better, to become stronger in their faith, or to contribute more to His kingdom.  God offers them a continent, even a whole planet.  But they're perfectly content with "Just Room Enough Island."   
But there are hazards to living so spiritually small.  The least little waves will threaten us.  The smallest trials will overwhelm us.  We'll always be taking from other believers – in comfort, encouragement, and prayers.  But we'll rarely be giving.  All we wanted from God was assurance of salvation and to keep our heads above water.  That's as far as our commitment to God will go. 
Pursue Growth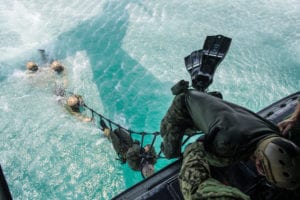 It's far better to be like Caleb who, though 85 years of age, still wanted his share of the Promised Land, even though it was inhabited by giants who would challenge his claims to the land (Joshua 14:6-12).  How about Jabez who prayed for God to enlarge his borders (1 Chronicles 4:9-10)?  Or Elisha, who sought a double portion of Elijah's Spirit (2 Kings 2:9-10).  It's far, far better to be like Paul who wrote, "But one thing I do: Forgetting what is behind and straining toward what is ahead, I press on toward the goal to win the prize for which God has called me heavenward in Christ Jesus" (Philippians 3:13-14). 
Christians are not born into the kingdom already mature.  They must grow to get there.  This is why Peter told us to "Grow in the grace and knowledge of our Lord and Savior Jesus Christ…" (2 Peter 3:18).  There's a universe of God to explore and enjoy.  Don't be content with "Just Room Enough Island." 
PRAYER
Dear Father in heaven, I am so weary of being a spiritual babe.  I'm tired of being knocked about by every little wave.  Please, dear Father, create in me a hunger and thirst for more of You.  I thank You that I stand on the solid rock of Jesus Christ, but there is so much more of Jesus to know and enjoy.  Please increase my passion to know You more and my capacity to do so. Amen.
---
Photos:
–https://www.odditycentral.com/travel/just-room-enough-island-the-worlds-smallest-inhabited-island.html (Wikimedia Commons, https://commons.wikimedia.org/wiki/File:Thousand_Islands_single_house.jpg)
–https://www.flickr.com/photos/marine_corps/8314272523/ (By Marines, Licensed under US Govt Work)
–https://www.flickr.com/photos/usnavy/50213596708/ (By Official US Navy Page, Licensed under CC by 2.0)
(Information from: https://www.odditycentral.com/travel/just-room-enough-island-the-worlds-smallest-inhabited-island.html) 
---