LOOKING FOR RESULTS

  I heard a fascinating story from a member of our congregation the other day. His name is U.S. Army Retired, LTC Alvin Walker. He is a former Airfield Commander of Gray Army Airfield here at Fort Lewis –the very place where his career as an Army aviator began back in 1957.
I asked LTC Walker if, in his long career as a pilot, he'd had any "close calls." For someone who's flown hundreds of times over the jungles of Vietnam and pulled countless surveillance missions over the Cold War Iron Curtain in Europe, there were certainly many.
He stated that there was one particular assignment that put his life in danger every day, but it wasn't in combat. It was as an aerial gunnery instructor, teaching pilots to dive and release bombs or rockets on their targets. LTC Walker explained that pilots would dive from 8,000 feet at a 45-degree-angle as they fired their rockets. Only instead of pulling out of the dive to safety, the trainees (with LTC Walker also seated in the aircraft) would be tempted to watch the rockets until they reached their target. Pilots were fascinated by the rockets and wanted to see the outcome of their targeting. To do so this a deadly practice – because the aircraft was not far behind the rockets. "Watching for the results" would leave the pilot no time to pull out of the dive.
After one near catastrophe, LTC Walker inspected the aircraft and found pine needles plastered onto its left wing. "Looking for the results" had brought their bomber so close to crashing that it struck the tops of the trees – at 500 MPH!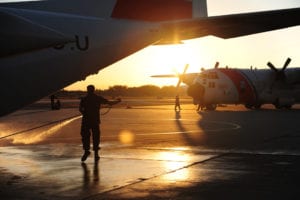 You know, we live and work in an environment where we unceasingly track and measure the net success of our efforts. When immediate success is minimal or lacking, we improve our tactics, methods and skills. So there is always a preoccupation with finding out "how well we did."
But LTC Walker's experience demonstrates that there are times when it's someone else' responsibility to assess and judge our work. The dive bomber pilot cannot wait around to track the success of his aiming. He must aim as best he can, fire his rockets, pull out of that dive, and leave the results for someone else to evaluate.
This concept parallels the totality of our work in the spiritual realm. Almost everything we do for the Lord consists of sowing seeds of the gospel and of good and loving deeds. But once our work is done we cannot possibly track the final outcome of our labors. To do so will lead to disappointment and discouragement. We must leave the assessment and judgment of our work to God who knows all things. It's called living by faith, not by sight (2 Corinthians 5:7).
For example, when I preach a sermon there's usually a lot of prayer and labor behind its preparation. So, after I deliver it, I'm tempted to look for the results. Only this habit usually leads to judging the sermon as a failure based on the amount and tone of the feedback I receive on it. But what if God brings something from that sermon to a believer's remembrance years from the time it was preached? At a time when he or she is despondent or in the flames of affliction? Wouldn't my judgment be premature and inaccurate?
Think of the witness you share and the kind deeds you perform for others. Are they always immediately appreciated? No! People don't always appreciate your kindnesses and sacrifice – especially if the recipients are children. The seed you sow may be like the delayed fuse of a bomb, having its effect at a later time when it's needed most. The ultimate outcome of your work may remain unknown to you until eternity – when God will reveal and recognize it to all of heaven's hosts.
"Trust in the Lord and do good," was the sound advice of the aging King David. "Commit your way to the Lord and He will bring it to pass"(Psalm 37:3, 5). If you are tempted to believe your labors for God influence no one and count for nothing, remember Paul's words in 1 Corinthians 15:58: "Your labor for the Lord is never in vain."
PRAYER: Dear Father in heaven, please bless my life and make me a blessing to others. To You, O God, I commit the work and ultimate effect of my life. Please grant eternal significance and meaning to my days and my deeds. Amen.
---