Reports on the rescuing of animals who become entrapped fill the news on a daily basis. On any given day one can read of people rescuing deer, elk, and horses who broke through the ice on a lake. From warmer climates come stories of people pulling elephants and cattle from wells and mud holes. Every day we can read of bears, raccoons, and mountain lions getting their heads stuck in containers – only for people to come to the rescue. Sea turtles become entrapped in nets and livestock get their bodies stuck in tires. But people are forever coming to their aid. 
And it doesn't seem to matter if the animal in peril is large or small. Even firemen and rescue workers have answered the call to rescue ducklings from storm drains and kittens from trees.   
It should not surprise us, then, to read of a week-long rescue effort to save a hamster from a four-inch conduit. That's correct. The BBC and UPI reported that, after six days of unsuccessful attempts, a member of RSPCA in the UK managed to rescue a pet hamster.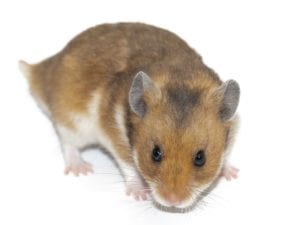 Jamie, a pet hamster, fell down a vertical pipe that housed smaller water pipes. It was too dark and crowded to even see poor Jamie, who had fallen three feet down. The smaller water pipes took up most of the room, leaving only a 1½-space for the hamster to maneuver through. Jamie's owners had lowered a length of string down the pipe, hoping he could use it to climb out. But he wasn't able.   
His owner kept him alive by dropping small pieces of food down the pipe. But after six days they finally called the RSCPA. 
Animal welfare officer Alison Sparkes responded. She fashioned a tiny ladder by cutting off the edge of sheet of heavy duty screening. She lowered it down the pipe and waited. That evening little Jamie climbed his way to the top of the ladder and out of the pipe. He was very thirsty, but otherwise OK. 
You know we are constantly bombarded by rhetoric of how evil and wicked humanity is. All the earth's woes are humanity's fault. We pollute the earth, wage war, and invade the living space of wildlife.   
But this is not the whole picture. Besides humanity's never-ending endeavors to care for, feed, and clothe their own kind – which exceeds all efforts to wage war, people are forever engaged in helping other kinds of creatures. In all honesty, human beings are responsible for doing a tremendous amount of good in the world.   
Doesn't it, therefore, make perfect sense that our Creator should exceed us in His benevolence and goodwill? He made us in His own image, but the ravages of sin have left only a dim reflection. Yet even this dim reflection of God's goodness can be quite formidable. 
If then, we who are corrupted and evil know how to extend kindness and love to tiny animals as well as to our own children, isn't God infinitely more concerned about us? Certainly we have the intelligence to make this connection. The way we feel for the smaller creatures of the earth, is the way God feels about us. His love, however, is millions of times greater.   
Even Jesus made this connection (Matthew 7:9-11; 12:11-12) and encouraged us to believe in our heavenly Father's love for us. Through the prophet Isaiah, God said to Israel, "Can a woman forget her nursing child and have no compassion on the son of her womb? Even these may forget, but I will not forget you" (Isaiah 49:15). 
If our hearts go out to animals that suffer, doesn't God's heart go out to us, whom God claims as His children?
It certainly does. And the love and delight a mother has for her nursing child is the same God has for us – though it is infinitely stronger and completely unconditional.   
So rest in your heavenly Father's love. He will never fail you or forsake you (Joshua 1:5-9). He will guard your "going out and coming in" this day and forever (Psalm 121:8). 
PRAYER:
Dear Father in heaven, give me a glimpse of Your love for me. As St. Paul prayed in Ephesians 3:18-19, help me to grasp the height and depth and length and breadth of Your love – and to experience it for myself. Amen.
---
Information from: https://www.bbc.com/news/uk-england-somerset-46264793
https://www.upi.com/Odd_News/2018/11/19/Tiny-ladder-used-to-rescue-hamster-trapped-inside-pipe/3951542642825/