On December 7, 1941, 350 Japanese warplanes in two massive waves virtually destroyed the air and naval forces of the United States at Pearl Harbor.
A Catastrophe
In less than two hours they sank or heavily damaged all eight of the Pacific Fleet's battleships, three of its cruisers, and five of its other ships. On that day Japan's carrier–based aircraft also destroyed or damaged 343 U.S. airplanes. Most of them had been parked in tight groups in the center of the airfields to protect them from sabotage.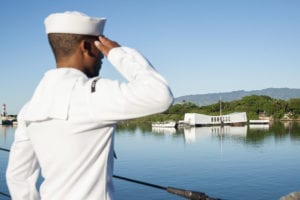 Most grievous among the losses was the sinking of Admiral Kimble's flagship, the USS Arizona. The sinking accounted for nearly half of all those who died—1,177 of 2,390 deaths. To this day the un–recovered remains of nearly 900 sailors are still aboard the sunken ship. As a result, it a virtual graveyard in the clear waters of Pearl Harbor. To commemorate the courage of these brave men and to memorialize their deaths, the USS Arizona Memorial was constructed in 1987, just above the sunken ship, spanning its beam.
Positioned just a few hundred yards from the sunken Arizona is another famous battleship, the USS Missouri—known as "Mighty MO." Its close proximity to the Arizona is no mistake. For it was aboard the decks of the Missouri in Tokyo Bay that General Douglas MacArthur and Admiral Chester Nimitz accepted Japan's unconditional surrender on September 2, 1945. It was the moment which officially ended the greatest and most costly war in human history. Hence, these two sites respectively represent the beginning and the end of America's involvement in WWII—the darkest day in US military history and the brightest, America's catastrophic defeat and its consummate victory.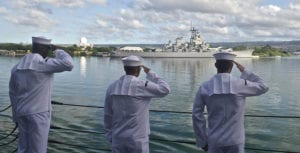 No Matter What
Perhaps to this meaning we can add another for the believer—that no matter how dark the hour, no matter how deep the valley, and no matter how fierce the conflict, God will bring our trials to an end and a shining morning to our nights. Truly, for God's faithful people, every problem has a limited lifespan and every trial a certain death. If we will only remain faithful we will gain the inevitable triumph, so help us God!
The Scripture reminds us, "Therefore, let us not grow weary in doing good, for in due time we will reap a harvest if we do not give up" (Gal. 6:9).
Prayer:
Dear Father in heaven, please sustain me in every trial and help me to endure every battle to the inevitable triumph. Amen.
---
In article photo: A Sailor renders honors during a pass-in-review at the USS Arizona Memorial by the U.S. Navy licensed under U.S. Govt. Work
Sailors render honors to the Battleship Missouri Memorial by the U.S. Navy licensed under CC BY 2.0