Brian Foster is from Humble, Texas. Foster returned to his home following Hurricane Harvey to inspect it for damage.
The house was trashed with mud and debris, but Brian's house was intact. Then as he walked into his dining room, he was met with a big surprise from Harvey – a nine-foot alligator. Brian called 911, who responded by sending police and animal handlers. They taped the gator's mouth shut then removed him from Mr. Foster's home.
The storm was enough to terrify any home owner. Why did it have to leave such a monster behind?
Yet, figuratively speaking, that's what the storms of life do to us. Faithfully, God takes us through the storm. However, we are still rattled by it. Lingering questions remain in our hearts – questions as troubling as a nine-foot alligator in our dining room. "God, what divine purpose could this tragedy possibly have? What redeeming quality is there to this storm? I am brought to my very lowest by this trial. Is this a demonstration of Your 'keeping power'?"
I confess that I've gone through some trials that really roughed me up. To this day, it is hard to see any redeeming quality to them. They only seem to have made me question God's faithfulness.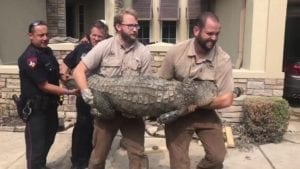 But here's where faith comes in. Paul the apostle tells us that "we walk by faith and not by sight". (2 Corinthians 5:7) Faith is believing without seeing. Despite the trials that rattle us, we have a deep conviction that God does have a redeeming purpose. We keep trusting that He will ultimately cause it to do us good, not harm. When the storms of life batter us, and we are shaking in our boots, we have faith that God loves us. We still strongly suspect He will work all things together for our good. Until He reveals it to us, we will follow Jesus. Because we know that He suffered the very same adversities.
That's why the Scripture tells us, "Fix your eyes on Jesus, the author and perfecter of our faith, who for the joy set before Him endured the cross – though despising its shame – and has now sat down at the right hand of the throne of God. Consider Him who endured such hostility from sinners against Himself so you may not grow weary and lose heart". (Hebrews 12:2-3)
Perhaps we will find that faith grows when it is challenged by hardship and adversity. That's what James and Peter told us. "Count it all joy, my brothers, when you encounter various trials knowing that the testing of your faith produces perseverance" (James 1:2) and "the testing of your faith is more precious than gold". (1 Peter 1:7) Yes, storms are painful. They test our faith. But faith tested is more precious than gold.
There's an old gospel song that talks about the lingering questions the storms of life can leave. It teaches a very good lesson.
Life is like a mighty sea, so tossed and driven. Billows rise within the heart of every man.
Storms so many times will leave the heart with questions. But I don't need to understand, just hold His hand.
PRAYER:
Dear Father in heaven, in all the years I've served You, You have never failed me or forsaken me. In my times of trial You have comforted me from Your word and have supplied my needs. There remain relics from the storms and lingering questions. But I still believe in Your faithfulness. I am convinced that the sufferings of this present life are not worth comparing to the glory that shall be revealed in us in heaven. Amen.
---
(Information from: https://www.upi.com/Odd_News/2017/09/05/Texas-man-finds-9-foot-alligator-in-dining-room-after-flood/7651504617271/?utm_source=sec&utm_campaign=sl&utm_medium=19; Lyrics from the song, I Don't Need to Understand, by Magdalene Crocker)