I recently watched a video of visitors passing through the long acrylic tunnel of the Maui Ocean Center in Hawaii.
A woman narrated as she recorded the scenes of Sting Rays and assorted sharks (big ones) swimming overhead and at her side. Yet as the large hammerheads swam all around her, with a keen interest in her and her children, she expressed no alarm. I detected no tremors in her voice, even though she was surrounded by predators. And rather than racing through the tunnel to get away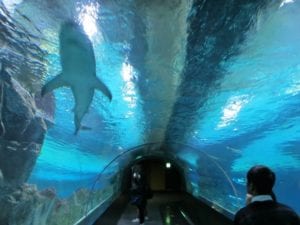 from the deadly creatures, her boys laid down on their backs to soak in the panoramic view of the hungry beasts.
Why were they not afraid? Because the sixty-feet long tunnel was made of many 5,000-pound acrylic panels which can each hold back 500 tons of water and protect them from any attack from a whole swarm of sharks. Though the tunnel is transparent – allowing visitors to see the danger all around them – it is completely impregnable to the crushing water and the sharks which stalk them.
You know, often God's protection is like that impregnable acrylic tunnel. God allows us to see the danger around us, but not the protection. The protection is certainly there, but to us it's invisible. Not all the hordes of hell nor Satan himself can penetrate God's invisible shield. But we cannot see it. Instead, God asks us to trust Him, to exercise faith when we cannot see exactly how God will protect us, supply our needs, and take care of our "hopeless situation."
God also asks us to "rest in Him" – all while those "unwanted guests," i.e. our problems, swarm around us (Psalm 37:7). We think, "Rest? How can anyone rest when they're submerged in problems? First, get rid of all those problems, then I'll be able to rest!"
But God doesn't work that way. As David expressed in Psalm 23, "You spread a table before me in the presence of my enemies" (Psalm 23:5). God marvelously supplied David's needs, not in the absence of trouble, but in the thick of it. In Psalm 31:21 David wrote, "God has made marvelous His lovingkindness to me in a besieged city." Yes, God provides for us, protects us, and fixes our problems while trouble surrounds us.
So we all might as well learn to exercise our faith and trust in the invisible God. Don't wait for life to be free of troubles before you begin to relax and enjoy it. Those conditions will never exist in
this life. Learn to trust in that invisible – but impregnable – protection which surrounds you. Learn to trust in the Almighty and loving Father who holds you safely in His capable hands. Jesus said, "My sheep hear My voice, and I know them, and they follow Me. And I give them eternal life, and they shall never perish; neither shall anyone snatch them out of My hand," (John 10:27-29, New King James Version).
PRAYER:
Dear Father in heaven, please forgive my unbelief when You have proven Yourself completely faithful and trustworthy throughout my life. Help me to trust in the invisible, but invincible, fortress which surrounds me. For You, O God, are my refuge and my strength. Amen.
---