You've probably seen this comedy routine in numerous silent movies (and used later in sound pictures).
It's where the protagonist (e.g., Charlie Chaplin, Buster Keaton, Harold Lloyd, one of the Three Stooges) is trying to stuff clothes into a dresser.
He manages to close three of four drawers. Then, with all his might, he tries to close the fourth drawer. But just as he forces it into the dresser, one of the other drawers pops out and hits him in the gut. He then tries, with his stomach, to push in that middle drawer. As he does, the top drawer pops out and hits him in the face. No matter how hard he tries to close all four drawers, one always manages to bulge back out. Just as he thinks he's finally on top of the problem, another drawer flies out and hits him in the shins. He's simply got too many things stuffed into the dresser.
Too Many Tasks
This scene used to be funny. But now it hits too close to home to be humorous. For it pictures the frustration that most of us endure in our effort to manage an increasing number of tasks. Just as we think we're on top of one requirement, we realize we've been neglecting another. We put out one fire, and another breaks out. It seems we cannot subdue one task without putting another on the back burner—until it begins to smoke, and then it gets our full attention once more.
We wage an all-out war to manage our tasks. We list them and prioritize them. But prioritizing our tasks doesn't always work. Just as a prioritized list of military construction projects has a "funding line"—below which projects cannot be funded, so our own list of prioritized tasks has a "doable line" (visible or invisible). Tasks that fall below the "doable line" cannot be resourced by human effort—or cannot be completed satisfactorily.
Turn Attention to God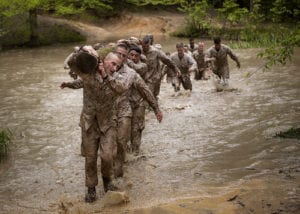 So what's my point? Not that we should despair, but that we should pray. Yes, pray. Take a few moments to turn our fixation off our problems and onto the ever-present God who loves us and yearns to intervene on our behalf. God can work behind the scenes in a million different situations simultaneously. He can resolve our many problems, give us wisdom and creativity to find solutions, and keep those fires from breaking out everywhere. Yet we go on ignoring Him, dashing to and fro, in a failing attempt to keep all the plates spinning by our own wits and effort.
Could it be that sometimes God allows our lives to get a little too chaotic or problematic, in order to get our attention? He's our heavenly Father and He yearns for His child to flee into His loving arms—just as any earthly parent desires.
Ask Him for help. He will not disappoint you. The Scripture says, "Do you not know? Have you not heard? The Lord is the Everlasting God, the Creator of the ends of the earth. … He gives strength to the weary and increases the power of the weak. Even youths grow tired and weary, and young men stumble and fall; but those who hope in the Lord will renew their strength. They will soar on wings like eagles; they will run and not grow weary, they will walk and not be faint" (Isaiah 40:28–31).
PRAYER:
Dear Father in heaven, I feel so overwhelmed with tasks and requirements. Yet You are able to intervene and resolve them, to give me wisdom and power to face them, and to control the pace at which they confront me. Help me, I pray. Upon Your mighty shoulders, I cast my burdens and trust in Your power, love, and wisdom to redeem me. Amen.
---
In article photo: High Boat! by