During my days of seminary in Springfield, MO, I used to go for a long run after class, before heading for work.
This became a daily routine. Along my "running route," I would pass a house in the neighborhood that had a little fenced-in Chihuahua dog. Every time, without fail, this scrawny, little dog came charging out, screeching at a high pitch. In his own little mind he was "defending the pack." Of course, I just kept running, which only fueled his inflated ego.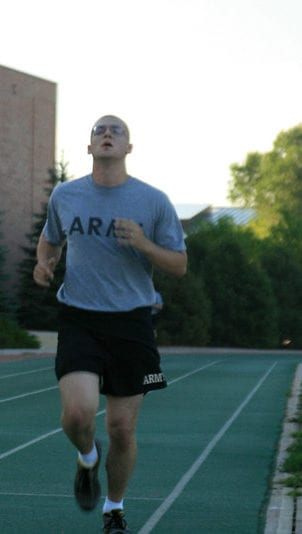 Day after day this went on, like clockwork. I'd run past his house. He'd come charging out and "chase the bad man away." At first it was entertaining. Then it became annoying. The "little general" was enjoying it too much and getting way too haughty.
So the day came to give him a surprise. He was itching for it. On my next run, as usual, I approached his house and the little loud mouth came charging out to chase me away. But just as he reached the fence of his yard, I turned around, glared at him and RRROOOAARRDDD!
What happened next could have won the jackpot on America's Funniest Home Videos. The little general spun around, let out a blood-curdling cry, and ran for his life—urinating all along the way.
I know. It was mean, but the temptation was just too great. And ever since that day it has reminded me of the words in Psalm 46, when the godless nations rage at God and threaten His people with destruction. The Scripture says, "The nations made an uproar, the kingdoms tottered; but when God raised his voice, the earth melted. The LORD of Hosts is with us. The God of Jacob is our Refuge" (Ps. 46:6–7).
The background to this psalm was the failed attempt of the Assyrian Empire to conquer Jerusalem in 701 BC. The swaggering Assyrian King, Sennacherib, had threatened to annihilate Jerusalem and destroy all memory of its God. But he barked too loud for God's liking. So, in response to the prayers of the righteous King Hezekiah, God dispatched His angel who slew the Assyrian Army. The godless raged and threatened. But God raised His voice and melted the enemy (2 Kings 18–19).
There are times when it seems the enemies of God threaten to take over the planet and erase every vestige of decency and good. But don't lose sight of the fact that they are no more threatening to God than that ugly little Chihuahua dog was to me.
And just as that little squint turned and ran at my roar, the godless will melt before God's. "Be still and know that I am God. I will be exalted among the nations. I will be exalted in the earth" (Ps. 46:10). Do not be discouraged. God's Kingdom and purpose will gain the inevitable triumph. Just make sure you stay on the winning side.
PRAYER:
Our Father in heaven, hallowed be Your name. May Your kingdom come and may Your will be done on earth as it is in heaven. Amen.
---
In article photo: 2008 Army "Best Warrior Competition by the U.S. Army licensed under CC BY 2.0