Brokenness looks like a lot of things…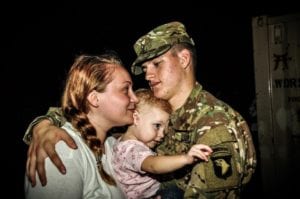 It looks like a smile and sweet hello, even though our world is crumbling.
It looks like a call that goes to voicemail, because we can't find the strength or the words to speak.
It looks like everything is okay, when nothing is okay
It's laughter and mindless conversations, when the hard things seem impossible to say.
It's a messy house, overflowing laundry, and greasy hair because life is too much to bare.
It looks like loneliness and depression, solitude and anger.
Brokenness doesn't always look the way we think it should look,
And as military wives, we've gotten really good at putting on a pretty smile to hide the hurting underneath.
We fear judgement and ridicule, we fear the repercussions it could have on our husband's careers and the image of our families. We fear rejection from other military spouses. We shy away, afraid of the gossip. We fear trusting, because we aren't sure who we can truly trust.
So we tuck it away. We hide our brokenness, living with the darkness consuming our hearts. We minimize it's importance and convince ourselves it will get better..
When we PCS to a new location, when we find that friend, when we finish school or find a new job.
We tell ourselves that the brokenness doesn't matter, because other people depend on us.
But Military Wife, YOUR BROKENNESS MATTERS.
The burdens that you hide away matter and there is a God that not only sees you, but desperately loves you. He not only sees your pain, but intimately knows the depths of your sorrow.
You matter to Him and He wants healing for you. He wants you to find true freedom.
Freedom from your bitterness, anger, hurts, depression, and anxiety.
He wants you to have HOPE for your tomorrow.
Scripture tells us that when we pray, God bends down an ear to listen. When you call on the name of Jesus, the heavens pause for the cries of your heart. (1 John 5:14)  The Lord himself, listens to what you have to say. There is no rush, He's simply there, giving you His undivided attention for as long as you need.
You are His, His sweet daughter. He is ready to listen.
Scripture also tells us that wherever the spirt of the Lord is, there is freedom. (2 Corinthians 3:17) Whenever we call on Him, He comes to us, right where we are. Morning or Night. He is there.
I know this military life is hard. It has a way of breaking us to our core. There are simply days where we can't take another step and that is okay. We aren't expected to have it all together. We simply can't do it all and be it all. We can only carry so much.
But God is with you. He is here to listen to the cries of your heart. He's here to strengthen you, as you face another day, He's also here to bring healing and freedom into your life.
Healing and Freedom is ours, when we cling to the power and love of Jesus.
Yes, it will take time. Healing is always a journey, but is worth every brave step we take.
Don't hide your brokenness, instead hand it over to a loving God. Trust Him with your hurts and allow His incredible love and mercy to bring true healing and freedom into your life.
You don't have to do this life alone and you don't have to endure your brokenness alone.
You are not alone
More from HFH click here     
.
---