Steve Leech, a milkman from Cornwall England, was making deliveries early one morning when he saw smoke billowing out of a gift shop among a row of buildings. Leech immediately dialed 999 (our 911 equivalent) and notified authorities of the fire.
Unordinary Hero
But that's not all he did. He kicked in the door and began dowsing the fire with the only thing he had—milk. This was no easy task. The milk was bottled in one–pint containers–with tamper-proof lids. Yet Steve Leech successfully extinguished the flames by emptying 320 pints of milk on the fire. Firefighters arrived 15 minutes after Leech called them. But by that time the fire was already contained. Authorities credited Leech with saving at least eight other buildings and businesses in the row, not to mention the dozens of lives of people who lived in apartments above the shops. Although Steve Leech had a very difficult time explaining to his boss where the 320 pints of milk went, he did manage to keep his job. In fact, for his actions, Leech was voted "Hero Milkman of the Millennium" by the National Dairymen's Association.
You know, all of us find ourselves in situations for which we are not adequately trained, equipped, or experienced. We may feel like the milkman, faced with a fire. "This situation needs a firefighter, not a dairyman. I don't belong here. This is somebody else's job. I don't have what it takes to do this job."
But regardless of how inadequate and ill-equipped you feel, you give the job your best effort. You take your little "personal size" milk cartons and you attack the flames. "How silly and unprofessional I look," you think. But you keep pouring.
Help or Criticize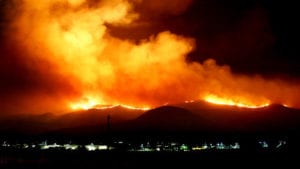 Others may see you struggling to do the job and, instead of helping, merely criticize your methods and performance. But when all is said and done, you have accomplished the mission. Your effort has not been the prettiest job ever done, but it is certainly the bravest.
And God is mindful of your efforts and your faithfulness. It may interest you to know that God often calls milkmen to put out fires—figuratively. Look at what the Scriptures say:
 "Remember, dear brothers and sisters, that few of you were wise in the world's eyes or powerful or wealthy when God called you. Instead, God chose the things that the world considers foolish in order to shame those who think they are wise. And he chose things that are powerless to shame those who are powerful. God chose things despised by the world to bring to nothing what the world considers important. As a result, no one can ever boast in the presence of God" (1 Cor. 1:26–29, New Living Translation).
That's right. You're not a cheap substitute for the real thing. You were divinely chosen by God Himself for the work with which He's honored you. So be faithful. Pay no attention to your own inadequacies—or to the critics. Keep your focus on the Lord Jesus Christ and depend on Him for grace, wisdom, and strength. The result? God will accomplish the mission through you–perfectly–while others stare in disbelief. And you will give all credit to God.
PRAYER:
Dear Father in heaven, I thank You for calling me to labor for Your eternal kingdom. Even though I am not equal to the challenge, I know that You will give me strength, wisdom, and grace to be successful—to Your honor and glory. Amen.
---
Information from "Super Milkman," English-to-Go.com, Reuters Limited.
In article photo: Battling the Blaze by U.S. Marines licensed under U.S. Gov Works